IP Network Dome Camera features optical zoom for wide angle views.
Press Release Summary: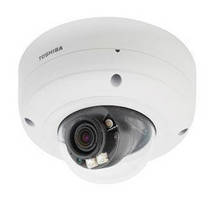 Reducing installation time with incorporation of remote optical zoom and one-touch remote focus, IK-WR14A two-megapixel IP network dome surveillance camera captures 1080p full HD resolution video at 30 fps. Cable management system, based on PoE, consists of single Ethernet cable for power, control, and data transfer. ONVIF compliant and vandal resistant, the camera's SRLED technology and IR filters provide clear night vision and removal of unnecessary colors.
---
Original Press Release:

Toshiba IP Network Dome Camera Reduces Upfront Installation Time and Expense



Irvine, CA, - As the evolution in IP video surveillance continues to roar forward, Toshiba is ensuring that installers stay ahead of the curve and cost-efficiently utilize this technology in a growing number of security applications.

The company's newest contribution is the IK-WR14A, a two-megapixel IP network dome camera that reduces upfront installation time with its incorporation of remote optical zoom, one-touch remote focus, and a new cable management system based on time-saving Power over Ethernet (PoE). Once installed, the camera captures 1080p full HD resolution video at 30 frames-per-second in virtually any lighting condition, indoors or outdoors.

Fastest IP Camera to Install

Upfront installation of an IP video camera can take 30 minutes or longer with most time-consuming, labor-intensive task being the initial focusing of the optical lens. On standard IP cameras, two technicians are required: one to physically adjust the lens to different positions in a trial-and-error fashion to find the sharpest focus, and another to view the results on a remote monitor via the network. Lagging in the network extends the time needed to complete the job.

To solve this problem, the IK-WR14A features a unique remote optical zoom and one-touch auto focus system that permits the lens focusing process to be completed remotely on a laptop computer by a single technician, quickly and easily. Amazingly simple to operation, the Toshiba remote focusing system slashes the time and labor expense associated with installing an IP camera.

Another labor-saving feature is the IK-WR14A's upgraded cable management system. Rather than the five separate cables found on previous camera generations, it consists of a single Ethernet cable for power, control and data transfer. Based on PoE, the cable management system allows the camera to be quickly installed in areas that would be otherwise inconvenient or cost-prohibitive. In addition, the IK-WR14A is ONVIF compliant, making it interoperable with a wide range of third-party IP solutions. ONVIF is an open industry forum for the development of a global standard for the interface of IP-based physical security products.

HD Resolution

Toshiba engineers employed a powerful two-megapixel CMOS sensor into the camera's imaging system, giving it the ability to capture the smallest of details needed to accurately recognize faces or to read license plates. In addition, because the sensor will also scan very large viewing areas, such as a parking lot or a department store floor, a single IK-WR14A can replace as many as five standard resolution (640 x 480) cameras, making it a cost-effective alternative. The camera's capabilities are further enhanced by a 3x optical zoom lens system that offers an exceptionally wide angle of view.

Exclusive LED Technology

Capturing video in extreme lighting environments remains a challenge for many security camera manufacturers. Toshiba has overcome this problem with exclusive SRLED (Single Reflection LED) technology that provides edge-to-edge lighting for night-vision down to 0 lux. Built-in day/night IR filters remove unnecessary colors in near complete darkness for the sharpest black-and-white image.

For backlighting difficulties confronted when cameras face bright outside daylight, the IK-WR14A features a wide dynamic range that optimizes visibility by taking two samples of the same image, one at slow shutter for the bright area and one at fast shutter for the dark area. These two images are then combined to avoid the subject being silhouetted.

Vandal-Resistant

As tough as it is smart, the IK-WR14A features a vandal-resistant IP66 outdoor metal housing, along with an electronic tamper-detection system that senses whenever the lens has been blocked, spray painted, or redirected. The camera immediately responds with an email emergency notification. These features qualify the IK-WR14A for areas subjected to frequent vandalism, including public places, schools and jails.

Two-way audio and H.264 space-saving compression round-out the camera feature set.

The IK-WR14A is expected to be available in mid-March. It will be shown at the ISC West Show, March 28-30, 2012, in Las Vegas, at Toshiba booth 2099.

About Toshiba American Information Systems, Inc.

Headquartered in Irvine, Calif., TAIS is comprised of four business units: Digital Products Division, Imaging Systems Division, Storage Device Division, and Telecommunication Systems Division. Together, these divisions provide mobile products and solutions, including industry leading portable computers; projectors; imaging products for the security, medical and manufacturing markets; storage products for automotive, computer and consumer electronics applications; and telephony equipment and associated applications.

TAIS provides sales, marketing and services for its wide range of information products in the United States and Latin America. TAIS is an independent operating company owned by Toshiba America, Inc., a subsidiary of Toshiba Corporation, which is a global leader in high technology and integrated manufacturing of electrical and electronic components, products and systems, as well as major infrastructure systems. Toshiba has more than 172,000 employees worldwide and annual sales of over US $54 billion (FY2005).

For more information on Toshiba's leading innovations, visit the company's Web site at www.toshiba.com.

®2012 Toshiba America Information Systems, Inc. All product names and trademarks belong to their respective owners. Information in press releases, including without limitation product specifications, and contact information, is current on date of the release, and is subject to change without notice.

Toshiba America Information Systems, Inc | 9740 Irvine Boulevard | Irvine | CA | 92618


More from Material Processing