Internet Connectivity Equipment
IP Communicator reduces security monitoring, service expense.
Press Release Summary: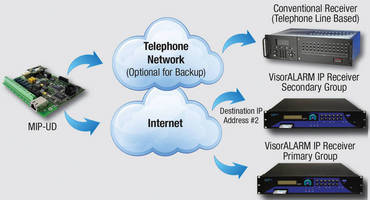 Able to eliminate need for phone lines, MIP-2 and MIP-2UD allow security/burglar alarm panels to be monitored primarily over IP (Internet Protocol) with option to add phone line for backup. Seamless connection to security panel dialer ports enables communicators to report alarm information from any system that utilizes Contact ID protocol; reconfiguration of security panel is not required. Using upload/download capabilities of MIP-2UD, dealers can access system information remotely.
---
Original Press Release:

Honeywell Power IP Communicator Saves on Security System Reporting and Service



IP Communicator Integrates Easily with Old and New Security Alarm Panels; Provides More Reliable, Lower-Cost Alarms Transmission Alternative to Phone Lines



NORTHFORD, Conn. — Honeywell (NYSE:HON) today announced the availability of two new IP (Internet Protocol) communicators, designed to reduce the monitoring and service costs for the transmission of alarm data from virtually any security/burglar alarm panel to a central station over an Internet connection.



The new MIP-2 and MIP-2UD communicators from Honeywell Power can eliminate the expense of phone lines traditionally used for security alarm monitoring. Using the upload/download capabilities of the MIP-2UD, dealers can access system information remotely to reduce on-site labor time.



Both IP communicators connect seamlessly to a security panel's dialer ports, enabling them to report alarm information from any system that utilizes Contact ID protocol – no reconfiguration of the security panel is needed. The MIP communicators allow systems to be monitored primarily over IP with the option to add a phone line for backup.



"Although IP communications in the security world are widely accepted, there are still those building owners that want a backup landline just in case," said Ken Gentile, marketing product manager, Honeywell Power. "Even in this scenario, the cost savings of eliminating one phone line is still significant."



With a traditional phone line costing up to $50 per month, buildings with monitored security systems stand to save a substantial sum of money through the use of an existing IP line and elimination of one phone line per security panel. For owners of multiple buildings, the savings can add up to a sizeable amount quickly.



Dealers can also benefit from the MIP-2UD's upload/download features, wherein many cases, they can resolve issues remotely or analyze troubles to reduce the amount of labor needed to fix system issues onsite.



"Many dealers have commented on how easy MIPs are to install and configure, and many are approaching existing customers with it as an option for saving money that can lead into other system upgrades," Gentile explained.



On the central station side, VisorALARM Plus IP receivers are required to capture all signals sent through Honeywell Power's MIP communicators. These receivers integrate easily into the architecture of most central stations. VisorALARM Plus IP receivers are also compatible with the IPDACT line of fire alarm IP communicators, making it easy for facilities to standardize their fire and security alarm communications for added cost savings and reliability.



The reliability of security system reporting improves dramatically through the MIP communicators' increase in supervision. The MIP's connection to the central station can be tested every 30 to 90 seconds, versus the once-a-day test performed on POTS (Plain Old Telephone System) lines. For added reliability, all data transmissions are secured using the industry's highest level of encryption: AES 512 bit.



More information on Honeywell Power's MIP-2 and MIP-2UD security system IP communicators is available at www.honeywellpower.com. All Honeywell Power products are sold through security equipment wholesalers nationwide.



About Honeywell Power

Honeywell Power, part of the Honeywell (NYSE: HON) Life Safety Group, designs and manufactures power solutions for access control, fire, intrusion and video applications. Information on Honeywell Power's complete portfolio of small plug-in transformers to large system power supplies is available online at www.honeywellpower.com.



About Honeywell

Honeywell International (www.honeywell.com) is a Fortune 100 diversified technology and manufacturing leader, serving customers worldwide with aerospace products and services; control technologies for buildings, homes and industry; automotive products; turbochargers; and specialty materials. Based in Morris Township, N.J., Honeywells shares are traded on the New York, London, and Chicago Stock Exchanges. For more news and information on Honeywell, please visit www.honeywellnow.com.

More from Electrical Equipment & Systems