IP-Addressable Check Scanner promotes security, accountability.
Press Release Summary: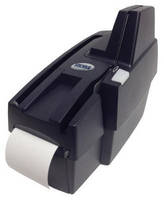 Used for teller capture and remote deposit capture, EC9600i® series does not require specific drivers prior to network configuration. Solution works with any Internet browser or OS using Web-based technology, and network address lets users detect point of capture for scan down to specific scanner. Along with single-feed and 30-document capacity for batch scanning, features include Ethernet or USB connectivity, ID card scanner, thermal printer, and franker.
---
Original Press Release:

RDM Unveils First IP-Addressable Network Check Scanners



New EC9600i® series scanners offer greater security for financial institution teller capture



WATERLOO, Ontario -- RDM Corporation (TSX:RC), a pioneer in the check scanning industry, is excited to unveil a revolutionary new way for financial institutions and their business customers to interface check scanners to their networks. The new EC9600i(®) series scanners offer secure single-feed and small-batch scanning with the ease of one-touch installation.



The EC9600i is the first series offering greater security for teller capture and remote deposit capture (RDC). Product highlights include:



--  Ease of installation; does not require specific drivers prior to configuring the scanner to the network

--  Designed to work with any Internet browser or operating system using web-based technology

--  Single-feed and 30-document capacity for batch scanning



Since the device itself has a network address, users are able to detect where the point of capture for the scan occurred - not just at the work station level, but down to the specific scanner - making the EC9600i series the most secure scanners available on the market.



"With a focus on the changes in retail banking, our mission is to offer a totally a new way of interfacing to a banking network for RDC and teller applications," states Bill Buser, Director of Scanner Solutions for RDM. "This includes developing a scanner series that is more secure in accordance with FFIEC guidelines."



Based on the foundation of the EC9000i(®) series scanner, the new EC9600i network scanners allow for easy configuration of RDC and teller workstations. The web-based software to set up the scanner is network accessible and does not need to be connected to a PC or workstation. This means that the scanner can be used as a shared resource that integrates with workstations, terminals or tablets.



Available in January 2015, the EC9600i IP network scanners offer Ethernet or USB connectivity with greater security features than wireless scanners on the market. They include an ID card scanner, support for two USB peripherals (such as an EMV PIN pad), an integrated Ethernet switch with two Ethernet ports, and a franker. For full flexibility with various workflow requirements, RDM also offers options for a 3" thermal receipt printer and magnetic stripe reader (MSR).



The EC9600i series will be unveiled at BAI Retail Delivery 2014 being held November 12 - 14 in Chicago, IL. Visit RDM at booth 4536 to see the new scanners in action, running on RDM's ITMS Software. Or, schedule a private consultation with RDM at the show.



About RDM Corporation

RDM Corporation provides large financial institutions with Remote Deposit Capture (RDC) solutions designed to help their clients simplify the way they do business. Working with clients for over 25 years, RDM provides both software and hardware solutions including web-based and mobile RDC, and manufactures a wide range of digital imaging scanners.



Four of the top ten financial institutions in the United States use RDM's payment processing solutions. RDM serves 32 percent of the top 100 Fortune 500 companies including brokerage firms, big-box retailers, healthcare and insurance providers, and government entities. RDM processes over $600 billion in payments annually and helps financial institutions increase revenue, expand market share and improve customer service for over 80,000 end-users. For more information, visit www.rdmcorp.com.



CONTACT: Lisa Dmytro, Marketing Manager, RDM Corporation, (800) 567-6227 ext. 308, ldmytro@rdmcorp.com, or Jeron Udean, Account Manager, Strother Communications Group, (612) 288-2414,  jeronu@scgpr.com



More from Optics & Photonics