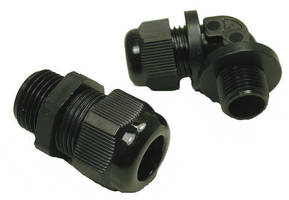 For your wiring applications that require a water tight seal and/or strain relief, Alliance Plastics now offers a line of NPT threaded Cable Glands in standard straight styles or right angle designs. Cable Glands are easy to install in either through holes with the use of an optional lock nut or by installing into a female threaded hole. Stocked sizes range from ¼" to 1-¼" NPT and all of the parts are rated to an IP68 protection. The parts do carry the UL/CSA approvals.

To view the complete product line; request a free printed catalog or samples to try, please visit us at www.allianceplastics.com/cable-glands or call us at 1-800-832-8677.

Additional wire management items include clips and clamps, cable ties, nylon bushing, spiral cut wire wrap and various styles of rubber grommets. Also offered is solid conduit and split loom in nylon, polypropylene, and polyethylene materials.

More from Fluid & Gas Flow Equipment