Ionizers utilize high-frequency ac method.
Press Release Summary: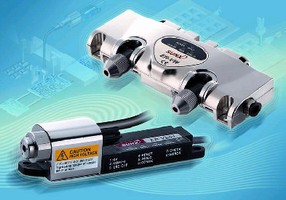 Ultra-compact ER-V Series and ultra-thin ER-VW Series provide charge removal time of 1 sec or less, protecting IC devices or electrical parts from electrical damage caused by static. ER-V Series measures 4.291 x 1.063 x 1.102 in., while ER-VW Series measures 5 x 1.929 x 0.744 in. Angles of 2 nozzles of ER-VW can be adjusted within range of 190°, and up to 5 units can be connected. Built-in 24 Vdc power supply eliminates need for additional power supplies or transformers.
---
Original Press Release:

High-Frequency AC Method Ultra-Compact Ionizers from SUNX



New Providence, New Jersey -- Panasonic Electric Works Corporation of America has introduced two types of SUNX brand static ionizer, the ultra-compact type (ER-V series) and the ultra-thin type (ER-VW series). These electrostatic charge eliminators use a high frequency AC method for more even ion balance (±15V or less) and greater reduction in static charge regardless of air pressure and setup distance. Charge removal time is one second or less, which allows fast cycle times for automated product lines.

SUNX ionizers come in compact size. The main unit of the ER-V series measures 27W x 109L x 28H mm (4.291 x 1.063 x 1.102 inch). The ER-VW series measures 127W x 49D mm and the thickness of the nozzles is only 18.9H mm (5 x 1.929 x 0.744 inch). The angles of two nozzles of the ER-VW can be adjusted within a range of approximately 190°, and up to five units can be connected easily. Besides the compactness, built-in 24V DC power supply which eliminates the need for additional power supplies or transformers, and a variety of nozzles and tubes give greater flexibility in installation of both series.

The major purpose for an ionizer is preventing IC devices or electrical parts from electrical damage caused by static. It also prevents problems caused by adhesive electrical parts/tapes or molding, by removing dust and dirt that can cause static.

About Panasonic Electric Works Corporation of America
Panasonic Electric Works Corporation of America (formerly known as Aromat Corporation) is a US subsidiary of Matsushita Electric Works, Ltd, an $11 billion company and major developer, manufacturer and provider of electrical construction, materials, home appliances, residential building materials, automation control products, wiring devices and electronic materials. SUNX is the major brand of industrial sensors of Matsushita/Panasonic group. SUNX brand products are sold through the sales network of Automation Control Systems Division of Panasonic Electric Works for Americas since 2001.

For Additional Information
URL: http://pewa.panasonic.com/acsd
Product Specific URL: http://pewa.panasonic.com/acsd/sunx/products/static_charge_removal.php
Tech Support Call: 1-877-624-7872
Technical Contact: Charlie Strobel, Sr. Product Support Specialist, 908-464-3550 ext. 2086 sunxsensor@us.pewg.panasonic.com