Ionizer offers ESD control in process tool applications.
Press Release Summary: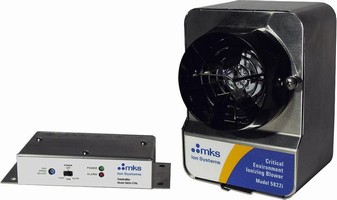 Maintaining ion balance of less than ±1 V or better with external monitor and less than ±3 V without, Ion Systems Critical Environment In-tool Ionizing Blower Model 5822i is suited for ESD control in process tools used in hard disk drive, backend semiconductor, and other automated manufacturing environments. It features internal automatic balance correction system, collimator, separate control box, and Hydro Wave bearing fan facility monitoring system connection.
---
Original Press Release:

MKS, Ion Systems(TM) Introduces Model 5822i Ionizing Blower



Ionizer Offers Exceptional ESD Control in Process Tool Applications

Wilmington, MA, August 09, 2007 - MKS Instruments, Inc. (Nasdaq: MKSI), a leading provider of process control technologies for improving productivity in semiconductor and other advanced manufacturing processes, has introduced the Ion Systems Critical Environment In-tool Ionizing Blower Model 5822i. Designed for extremely tight ion balance, the small size of the Model 5822i ionizer makes it an ideal solution for ESD control in process tools used in the hard disk drive, backend semiconductor and other automated manufacturing environments.

The Model 5822i ionizer's optional sensor input operates with the Novx Series 7000 Monitor, the Novx Series 3150/3350/3360 Monitors, and other industry-standard monitors to detect and correct any offset in the ion balance. The ionizer maintains a balance of <±1 volt or better with an external monitor and <±3 volt without. The internal automatic balance correction system ensures accurate ionization of the target, providing for significant improvement in ionization performance. The patent-pending collimator is installed over the fan and directs ionized air to the target, improving ion delivery and shortening decay times, as well as increasing the range of the 5822i ionizer. The separate control box allows the blower to be installed in small, hard-to-reach spaces without fitting additional connections or wiring.

The Model 5822i features a unique Hydro Wave bearing fan a facility monitoring system connection for remote monitoring of alarms at the tool or system level, audible and visual product balance and locked-fan alarms and low/off/fast fan speed control with an adjustable low fan speed trimpot. The ionizer is cleanroom compatible and RoHS compliant.

About MKS

MKS Instruments is a leading worldwide provider of process control solutions for advanced manufacturing processes such as semiconductor device manufacturing and thin-film manufacturing for flat panel displays, optical storage media, architectural glass and electro-optical products. We also provide technology for biopharmaceutical and medical imaging equipment.

Our instruments, components and subsystems incorporate sophisticated technologies to power, measure, control and monitor increasingly complex gas-related semiconductor manufacturing processes, thereby enhancing our customers' uptime, yield and throughput, and improving their productivity and return on invested capital.

Corporate contact:
Lisa Condon
Phone: 978-284-4050
Fax: 978-284-4999
Lisa_Condon@mksinst.com

Related