Ionization Gauge suits thin film coating applications.
Press Release Summary: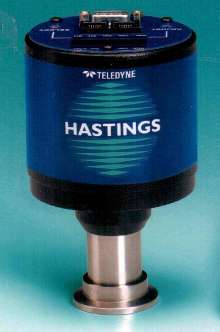 Model IGE-3000 consists of dual-filament, small internal volume Bayard-Alpert ionization gauge tube and electronics package, which consists of 4 boards including electrometer, power supply, processor/control adapter, and options board. System provides pressure measurement from 10
-10
to 10
-2
Torr, and is driven by 24 Vdc input. It includes LED, RS-232/485 communication, 2 TTL setpoints, and selectable emission currents.
---
Original Press Release:
Teledyne Hastings Instruments Makes Available the IGE-3000 Ionization Gauge

Hampton, VA--Teledyne Hastings Instruments, a business unit
of Teledyne Instruments, has recently introduced the IGE-3000
Ionization Gauge Electronics and Sensor. This instrument
provides the user with accurate, repeatable pressure measurement
for applications such as thin film coating, sputtering, lighting
manufacturing, vacuum furnaces and calibration systems. The
Hastings Ion Gauge features a range from 10-10 Torr to 10-2 Torr.

The miniature Bayard-Alpert style package is driven by a 24
VDC input. The IGE-3000 features an easy to read LED, RS
232/485 communication, two TTL setpoints, selectable emission
currents and dual filaments.

This complete measurement system consists of a dual-filament small internal volume Bayard-Alpert ionization gauge tube and electronics package. The gauge tube includes several innovations over conventional Bayard-Alpert tubes. For example, the filaments are precisely tensioned to give repeatable performance and long life. In addition, all tube materials are selected and processed to yield consistent structural integrity. The electronics package consists of four boards including a precision electrometer, power supply, processor/control adapter
and options board. All combine to make this an intuitively easy
instrument to operate.

For more information about this new instrument or any other
Teledyne Hastings products, visit our web site(http://www.teledyne-hi.com) for the current product bulletins
or contact Charlie Fulmer at Teledyne Instruments Hastings
Instruments. Write: P.O. Box 1436, Hampton, VA 23661; phone
(toll-free) (800) 950-2468; fax (757) 723-3925 or E-mail
hastings instruments@teledyne.com
More from Electrical Equipment & Systems