Ion-Based Air Purifiers efficiently fight indoor air pollution.
Press Release Summary: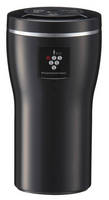 By utilizing Plasmacluster Ion Technology, Plasmacluster Ion air purifiers create fresh indoor environment by generating negative and positive ions that eliminate harmful substances – pollen dust, allergens, viruses, molds, gases – and foul smell from air as well as surfaces. Products address areas with elevated threat of air and surface contamination, including doctors' chambers, toilets, wardrobes, hotel lobbies/rooms, offices, changing rooms, as well as pharmaceutical and food storage.
---
Original Press Release:

SHARP Launches All New Plasmacluster Ion Air Purifiers



-Range of air purifiers to fight Indoor air pollution-



New Delhi: It has been the endeavour of Sharp to introduce one-of-a-kind products to the world. Plasmacluster Ion Technology for Indoor air treatment is a recent addition. Plasmacluster Technology creates Forest-Fresh environment indoors by generating negative and positive ions which are created in natural environments like a forest. These ions kill all harmful substances like pollen dust, allergens, virus, mould, gases and foul smell not just from the air but also from the surface of things kept indoors and thus creating a neutral and fresh environment to breathe easy and safe air. The effectiveness of Sharp's Plasmacluster Ion air purifiers have been verified by renowned academic and research institutes around the world.



It has been certified by the Asthma Society of India and British Allergy Foundation to be most effective in removal of triggers that cause Morning Allergy and Asthma.



On the launch of the product, Mr. Sunil K. Sinha, Managing Director of Sharp Business Systems (India) Limited said, "We eat thrice a day and drink water 15 to 20 times a day, however a normal adult takes 20000 breath a day. It is evident that air is the most important substance going into our bloodstream. Studies reveal that the indoor air is many times more  stale and suffocating than the outdoor air. The urban outdoor air gets replenished twice a day due to Land & Sea Breeze, however there is very little replenishment of our indoor air. As we spend more time indoors, we are exposed to this kind of stale air which is increasing our threat of respiratory and cardiovascular diseases. Sharp Plasmacluster Air treatment Solution sends out the same positive and negative ions found in nature, that kills the harmful substances from the air as well as the surface of our indoors, thereby creating a fresh indoor environment."



"Products equipped with Plasmacluster Technology has crossed more than 3 crore units worldwide. Plasmacluster technology is the blessing for those suffering from respiratory and chronic diseases to give their immune system rest while they are indoors so that they can enjoy when they are outside." he added.



The Plasmacluster Ion Air Purifiers can be used wherever the threat of air & surface contamination remains high like Doctors Chamber, Homes, Toilets, Wardrobe, Public spaces like Hotel Lobbies and Rooms, Theatre & Banquet Halls, Office, Changing Rooms, Pharmaceutical and Food Storage to name a few. They are priced in the range of Rs.14,990 to Rs.57,990 and are available through Retail outlets across India.



ABOUT SHARP:

Sharp Corporation which was founded in 1912 is a worldwide developer of innovative products and core technologies that play a key role in shaping the future of electronics. As a leader in liquid crystal displays (LCDs) and digital technologies, Sharp offers one of the broadest and most advanced lines of consumer electronics, information products and electronic components, while also creating new network businesses.



Driving cleaner and greener technologies is part of the social responsibility taken by Sharp. While LCDs, Sharp's core technology, saves energy, Sharp is in active creation of clean energy through its Solar Business for which is the undisputed leader worldwide.



Currently Sharp has business capital stock of 204,675 million yen with a worldwide employee strength of 64,500 people (32,000 in Japan and 32,200 overseas).



About Sharp Business Systems (India) Limited



Sharp considers India to be an extremely important market for its products. Sharp Business Systems (India) Limited (SBSIL) is a hundred per cent subsidiary of Sharp Corporation with its head office in Delhi and branches all across India. Within a short span of ten years in India, it is already amongst the top brands for Digital Multifunction Products (Network Printer/ Copier/ Scanner/ Fax) Multi-media Projectors & LCD Display Solutions. SBSIL is aggressively focusing on the IT sector to provide complete Business Solutions with its new range of products.



Sharp in a very short duration has also made a mark in the extensively competitive consumer electronics market of India with its superior products like LCD TVs, Air Conditioners, Refrigerators, Washing Machines, Plasmacluster Ion Generators, Microwaves, Vacuum Cleaners and Mobile Phones. The company is making the product reach its customer through the existing consumer electronics distribution channel and its exclusive brand shops across the country. The company has a nation-wide sales & service network covering even the remotest locations of India. SBSIL currently has a turnover of Rs 400 crores.



For further information, please visit www.sbsil.com

More from Packaging Products & Equipment