Inverters suit electroluminescent backlit LCDs or devices.
Press Release Summary: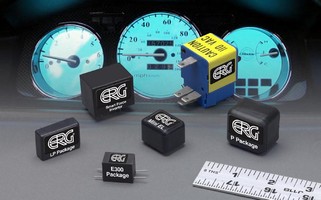 Vacuum encapsulated Smart Force Series DC-AC inverters prolong lamp life by automatically adjusting operating voltage and frequency. Suited for battery-operated devices, LPS series consumes less than 400 mW per unit load, while JLA Series powers imported EL lamps used to backlight LCD modules. Inverters are available in Standard E600, E300, EMini-EL for small displays in portable, hand-held devices and LP packages for applications with limited height.
---
Original Press Release:

ERG Powers Today's EL Backlighting and Illumination Applications with Smart Force(TM) DC-AC Inverters



Endicott, NY, October 2006 - Endicott Research Group (ERG) Inc. offers a family of Smart Force DC-AC inverters that provide a range of standard and custom solutions for display and device designers who need to power electroluminescent (EL) backlit LCDs or devices where EL is used for accent and decorative lighting.

"EL is still a very viable technology for backlighting flat panel displays as well as for accent and decorative illumination in a variety of applications," said Bill Abbott, Director of Sales & Marketing at ERG. "EL is compact, lightweight, and completely solid state and is widely used in harsh and demanding industrial display environments because of its excellent shock and vibration resistance."

EL applications include backlit LCDs - medical, instrumentation/process control, transportation, automotive instrument panels and military displays - as well as accent lighting, EL sheets and EL wire used in automotive lighting, signage, consumer products, wireless devices and a wide variety of specialty applications, including "smart glass" privacy tint laminations for windows used in buildings and vehicles.

Vacuum encapsulated for maximum reliability, a design unique to ERG, Smart Force inverters actually prolong the useful life of the EL lamps they power because they automatically adjust operating voltage and frequency as the lamp ages and changes.

The Smart Force inverter family gives the display design engineer a wide range of options. The standard E600 package is 1.25"L x .85"W x .95"H (31.75 x 21.59 x 24.13 mm). The E300 (1.15"L x .6"W x .6"H, or 29.21 x 15.24 x 15.24 mm) and the Mini-EL packages (.97"L x .68"W x .69"H, or 24.63 x 17.27 x 17.52 mm) are ideal for smaller displays such as those used in portable and hand-held devices. Also, for applications where height is limited, the compact LP (low profile) package - 1.19"L x .82"W x only .34"H (30.2 x 20.8 x 8.6 mm) - is ideal.

To power conventional foil EL lamps used in backlighting applications, ERG offers the LPS Series of inverters. Their low power consumption (less than 400 mW per unit load) is designed to maximize the lamps' effectiveness in powering battery-operated devices. The LPS Series is available in 3 different package sizes, with the largest, the "H" package, capable of powering panels 60 in2 (386 cm2) to 120V @ 400 Hz.

For powering imported EL lamps used to backlight LCD modules from overseas manufacturers, ERG offers the JLA Series of inverters to match the characteristics of these lamps, such as those incorporated into LCD modules from Epson, Hitachi, Optrex, Seiko, Sharp, Toshiba and other manufacturers. There are 3 JLA Series package sizes, with the "H" package having the capability to power 80 in2 (516 cm2) to 120V @ 400 Hz.

The P Package offers the same capability as the standard size JLA or LPS Series inverters, but in a more compact package - 1.01" L x .82" W x .70" H (25.65 x 20.82 x 17.78 mm).

ERG also offers a wide array of custom inverter solutions for virtually any EL requirement that are mechanically and electrically designed for the specific application, can be specially encapsulated for the most rigorous operating conditions and environments, and can be packaged for "plug and play" capability.

Pricing for ERG's Smart Force inverters varies according to size, type and capability. Pricing for JLA and LPS Series inverters starts at $5.25 each in 1,000-piece quantities in the standard package. Delivery is typically 4-6 weeks A.R.O. which, according to ERG, is the fastest turnaround time in the industry.

For more information, contact
Endicott Research Group (ERG), Inc.
2601 Wayne St.
Endicott, NY 13760
USA
Tel: 607-754-9187
toll-free: 800-215-5866
Fax: 607-754-9255
www.ergpower.com

Attn: Jim Rising
Endicott Research Group
P.O. Box 269
Endicott, NY 13761
E-mail: sales@ergpower.com

More from Electrical Equipment & Systems