DC to AC Power Supplies (Inverters)
Inverters offer interchangeable operator panels.
Press Release Summary: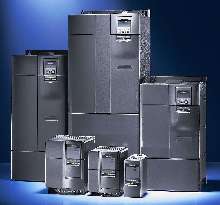 MICROMASTER universal drives are available in 4 performance classes: MM410, fractional to 1 hp, 1-phase 120 and 220 V contactor drives; MM420, fractional to 15 hp, 1- and 3-phase, 230 and 460 V basic inverter drives; MM430 variable torque rated inverters; and MM440 units with sensorless vector capability and optional closed loop vector control. All units offer accessible terminals, interchangeable operator panels, programming software, and built-in RS485 serial link.
---
Original Press Release:
Siemens Releases Fourth Generation Micromaster Inverters

Comprehensive family of AC drives and accessories matches broad performance ranges with attractive price point, available Profibus or Devicenet interfaces

ALPHARETTA, Ga., Oct. 14, 2002 - Siemens Energy & Automation, Inc., today has released the fourth generation of its MICROMASTER inverters, a universal drive series for AC motors from 1/6 HP to 300 HP with a new, user-friendly parameter structure that simplifies installation and start-up for the basic to complex speed control applications at a commensurate price.

MICROMASTER 4 shares common configuration and operating features across all models, which includes micro inverter, basic, variable torque rated, and vector controlled performance models at performance ranges from fractional to 300 HP. All common worldwide voltage ranges are met with 200-240V, 380-480V, and 500-600V units.

Introduced in 1993, the MICROMASTER was among the first VFDs to offer breakthrough technologies like flux current control for automatic current load adaptation. The newest iteration features the latest digital microprocessors and IGBTs along with new BICO (Binary Connector) technology, whereby inputs/outputs and control options can be configured as function blocks in the drive inverter, making the drives completely customizable. There are also advanced serial interfaces available for Profibus or Devicenet systems, with an RS485 serial link standard.

Fourth generation MICROMASTERs are available in four performance classes:

MM410 Fractional to 1HP, 1 phase 120V & 220V "contactor" like drives designed for simple V/Hz speed control applications.

MM420 Fractional to 15HP, 1- and 3-phase, 230V and 460V basic inverter drives designed for basic speed control using V/Hz or Flux Current Control.

MM430 Variable torque rated inverters for such uses as pumping applications.

MM440 High-performance sensorless vector capability for extreme high torque/dynamic response applications. Closed loop vector control can be added to the MM440 drive to provide precise speed and torque control under all conditions.

The MICROMASTER 4 series also features easily accessible terminals and interchangeable operator panels simplify installation and start-up. Interchangeable operator panels can be simply connected to the drive; either BOP (Basic Operator Panel) for individual commissioning, or AOP (Advanced Operator Panel) which can be used to commission and control up to 31 inverters. The AOP can save up to ten programs that can be used to clone other drives with common requirements. Programming software is provided with the product to allow for easy programming and set up archiving via a built-in RS485 serial link. Convenient RS232 port and cable adapter can also be added to the MM4 products.

Siemens Energy & Automation, Inc.

Information Services

100 Technology Drive

Alpharetta, GA 30005

Or call (800) 964-4114 or seainfo@sea.siemens.com

Visit Siemens' home page at: http://www.sea.siemens.com/

Headquartered in Alpharetta, Ga., Siemens Energy & Automation manufactures and markets the world's broadest range of electrical and electronic products, systems and services to industrial and construction market customers. Its technologies range from circuit protection and energy management systems to process control, industrial software and totally integrated automation solutions. The company also has expertise in systems integration, technical services and turnkey industrial systems.

Siemens AG (NYSE: SI), headquartered in Munich, is a leading global electronics and engineering company. It employs some 450,000 people in 193 countries, and reported worldwide sales of more than $74 billion in fiscal 2001 (10/1/00 - 9/30/01). The United States is Siemens' largest market, with nearly 80,000 employees and sales of $18.9 billion for fiscal 2001. For more information about Siemens in the U.S., go to www.usa.siemens.com
More from Machinery & Machining Tools