Inverter IC targets high efficiency motor drive applications.
Press Release Summary: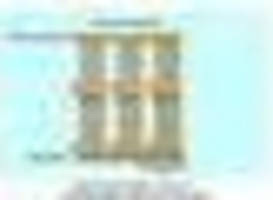 Gallium Nitride (GaN) based, 106 KB monolithic inverter IC features 6 GaN-based transistors that can be independently driven, allowing high efficiency motor drive. Gate Injection Transistors (GITs) are integrated onto chip's lateral device configuration, independent operation of each is made possible by planar isolation using iron ion implantation that supports breakdown voltage of 900 V between transistors. Unit also offers output power of 20 W.
---
Original Press Release:

Panasonic Develops a Gallium Nitride (GaN) Inverter IC for Motor Drive with High Efficiency



(Osaka, Japan - Panasonic today announced the development of a Gallium Nitride (GaN) -based monolithic inverter integrated circuit (IC) for motor drive. The integrated six GaN-based transistors can be independently driven in a single chip, which enables successful motor drive with high efficiency. The new GaN inverter IC is applicable to motor drive in a variety of consumer electronics.

Panasonic's proprietary Gate Injection Transistors (GITs) are integrated into a single chip taking advantages of its lateral device configuration. The GIT serves normally-off operation with low on-state resistance and high breakdown voltage. Independent operation of each GIT is possible by planar isolation using iron (Fe) ion implantation keeping high breakdown voltage around 900V between each transistor which is stable even after high temperature fabrication process over 800ºC. It is also noted that the IC is fabricated on cost effective Si substrate with large diameter. The epitaxial structure is grown by metal organic chemical vapor deposition (MOCVD) with novel buffer structures which fully relax the strain in the film caused by the lattice and thermal mismatches between GaN and Si.

Successful motor drive is confirmed using the new GaN-based monolithic inverter IC. The conversion loss is effectively reduced by 42% from that by conventional Si-based IGBT (Insulated Gate Bipolar Transistor) at the output power of 20W. On-state loss is reduced by the GIT free from the off-set voltage in the forward bias which is seen in conventional IGBT. The integration reduces the parasitic inductance so that the switching loss is effectively reduced. The inverter IC is the world first demonstration of a single chip GaN-based inverter IC for motor drive.

Applications for 141 domestic and 90 overseas patents have been filed. These research and development results have been presented at International Electron Devices Meeting 2009, held in Baltimore, U.S. from December 7 to 9, 2009.

About Panasonic

Panasonic Corporation is a worldwide leader in the development and manufacture of electronic products for a wide range of consumer, business, and industrial needs. Based in Osaka, Japan, the company recorded consolidated net sales of 7.77 trillion yen (US$78.4 billion) for the year ended March 31, 2009. The company's shares are listed on the Tokyo, Osaka, Nagoya and New York (NYSE:PC) stock exchanges. For more information on the company and the Panasonic brand, visit the company's website at http://panasonic.net/.

More from Machinery & Machining Tools