AC Motor Controllers and Drives
Invertek "Drives" a Hole in One at Italian Golf Course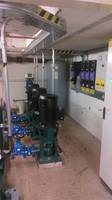 An Italian golf course has greater control irrigating its greens, thanks to the introduction of Invertek Drives variable frequency drive (VFD) technology, cutting water usage and reducing energy costs as a result.
Golf Club Lignano at Lignano Sabbiadoro (www.golflignano.it) had a single 110kW pump and 110kW drive controlling its underground irrigation system serving the 72 hectare, 18-hole course.
It meant the whole course had to be irrigated even if green-keepers needed to only target certain areas.
The club turned to Invertek Drives Italia for a solution providing greater flexibility, reducing water usage and associated costs.
"If the existing pump or drive was out of service the whole system would be inoperable, leaving the course without any irrigation," said Mauro Grassivaro of Invertek Drives Italia.
"It was using excessive amounts of water and the single pump was placed under significant strain as a result."
Four Optidrive Eco IP55 variable frequency drives were introduced as part of the solution using Invertek's Optiflow multi-pump control technology. They control four 18.5 kW pumps targeting zoned areas of the course.
Optiflow technology allows more than one drive working together to ensure optimised efficiency.
One drive is the master and the other three are slaves. The master controls and commands the slaves with their speed and run times. It also ensures that if one or more drives is out of service the remaining available drives take control of the pumping requirements, ensuring continued irrigation.
There is also no need for external PLCs or other controlling devices as the whole programme is implemented on the Eco drives.
"The system can also detect low pressure, such as a leak in the system, blockages and dry run protection, ensuring the motors are not placed under stress, reducing maintenance or replacement costs. The new system means the club can have a targeted approach to irrigation, cutting water usage and reducing costs overall," added Alessandro Venier.
For more media information, contact:
Owain Betts, t: +44 (0)1938 55 68 68 m: +44 (0)7787 437 052
E: Owain.Betts@invertek.co.uk
www.invertekdrives.com
Invertek Drives
Invertek Drives Ltd is dedicated to the design, manufacture and marketing of electronic variable frequency drives for controlling electric motors. 
The state of the art UK headquarters houses specialist facilities for research & development, manufacturing and global marketing. All operations, including research and development, are accredited to the exacting customer focused ISO 9001:2008 quality standard whilst its Environmental Management System is accredited to the ISO 14001:2004 quality standard.
Invertek's products are sold globally by a network of specialist distributors in over 80 different countries. Invertek Drives unique and innovative Optidrive range is designed for ease of use and meets with recognized international design standards for CE (Europe), UL (USA) and CTick (Australia). More details can be found by visiting www.invertekdrives.com.
More from Fasteners & Hardware