Inverted Microscopes are suited for biomedical disciplines.
Press Release Summary: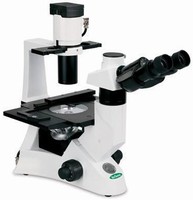 Along with infinity optics and trinocular head that supports digital image documentation, 1400INi series supports 4 stage inserts that offer flexibility to observe biological cultures within well plates, Petri dishes, slides, and vials. Stage extension expands mechanical stage to 300 x 160 mm, and ergonomic design features focusing controls low on base to prevent wrist strain. Microscopes also support fluorescence upgrade kits and digital camera systems.
---
Original Press Release:

New Inverted Microscopes Equip Expanding Biomedical Disciplines



Kirkland, WA, March 25, 2008­-VanGuard Microscopes announces its 1400INi series inverted microscopes with infinity optics, a user-friendly design, and a trinocular head that supports digital image documentation. Stage inserts give flexibility to observe biological cultures within well plates, Petri dishes, slides, and vials. Fluorescence upgrade kits will be available as options soon. The series is suited for tissue culture analysis, pharmacology, immunology, and related biomedical disciplines.

Four stage inserts enable researchers to observe biological cultures in a variety of vessels. Right out of the box, VanGuard includes stage inserts for 96-well plates, HLA microtest plates (Terasaki plates), glass slides, and 65/54/35mm Petri dishes. A stage extension expands the mechanical stage of the 1400INi series to an accommodating 300 by 160 mm.

Microscope users working for long periods of time benefit from the ergonomic design of the 1400INi inverted models. The focusing controls are low on the base to prevent wrist strain and for comfortable viewing from both sitting and standing positions. The ultra low position of the X-Y mechanical stage controls provide easy and accurate positioning of the sample. Additionally, the eyepoint height is a tall 400mm so users can maintain good posture when operating the microscopes.

Fluorescence upgrade packages will be available in the coming weeks for the two models within the series, model 1491INi (brightfield) and 1493INi (phase contrast). Fluorescence illumination allows cell biologists to observe green fluorescence protein (GFP) in live cultures, often used to track and tag biomolecules. "More affordable fluorescence capability on an inverted microscope opens us up to a whole community of biological research," says Paul Wendling, Senior Product Developer at VanGuard.

The 1400INi series has an infinity optical system. VanGuard added high-eyepoint, 22mm ultra-widefield eyepieces and soft eyecups. High-eyepoint eyepieces save users who wear eyeglasses from having to remove them when viewing a specimen. Those with perfect vision and those who wear glasses can expect a clear image.

Digital camera systems are available for VanGuard's 1400INi inverted microscopes. The color CCD USB 2.0 camera system and software support still image and video capture. Users can adjust camera settings to get optimal imaging for their particular application. VanGuard includes microscope adapters with the cameras.

For additional information on VanGuard Microscopes, visit www.veegee.com.

About VanGuard Microscopes
VanGuard Microscopes, developed by VEE GEE Scientific Inc., has a wide line of microscopes that integrate high-level specifications and user-friendly features. VanGuard's line of complete turn-key systems includes brightfield, phase contrast, fluorescence, industrial, inverted, stereo, and educational microscopes. The mission at VanGuard Microscopes is to equip laboratories, industrial facilities, clinics, and universities with cost-effective microscopes that meet or exceed the performance of similar, higher-priced instruments.

Contact Name: Kaely Culbertson
Title: Sales & Marketing Account Representative
E-mail: sales@veegee.net

Company Information:
VEE GEE Scientific, Inc.
13600 N.E. 126th Place, Suite A
Kirkland, WA 98034
USA
Phone: 425-823-4518
Fax: 425-820-9826
http://www.veegee.com

More from Electrical Equipment & Systems