Inverted Microscope features drift compensation system.
Press Release Summary: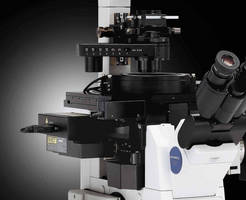 Inverted IX81 microscope includes Z-Drift compensation system that continually monitors distance between objective lens and sample surface, while unit operates in continuous mode. This maintains accurate focus during time-lapse experiments. Microscope also operates in one-shot mode to maintain focus for hours, days, or weeks and to image multiple sample wells. Integrated ZDC2 Z-Drift compensation module has IR laser diode that maintains focus in response to external factors.
---
Original Press Release:

Olympus Keeps You Focused on Your Research



Olympus keeps you focused on your research

Hamburg - Olympus has today announced the release of the inverted IX81 microscope with ZDC2 Z-Drift compensation system. This next generation solution ensures that your samples are always in focus, providing extremely sharp images. The two modes, continuous and 'one-shot', enable the completion of any time-lapse experiments. The brand new Z-Drift compensation system continually monitors the distance between the objective lens and the sample surface, thus maintaining accurate focus during even the fastest time-lapse experiments. In contrast, the 'one-shot' mode facilitates applications requiring multiple focal positions. Providing excellent speed, accuracy and flexibility, the ZDC2 Z-Drift compensation microscope system is perfect for any live-cell imaging, maintaining optimal focus image after image, regardless of experiment length or complexity.

The Olympus IX81 microscope systems are highly stable, rigid and reliable, taking advantage of the proprietary UIS2 objectives, providing exceptional contrast, brightness and resolution resulting in superb clarity. The IX81 combines seamlessly with the ZDC2 Z-Drift compensation module to provide automatic focal adjustment. The ZDC2 employs an infrared laser diode to locate the interface between the slide cover slip and the surrounding media. As the relationship between the sample and the cover slip tends to be consistent, this allows the microscope system to remain focused in response to external factors, via the rapid adjustment of the nosepiece. Adjustments made using the ZDC2 are extremely fast and accurate.

The high quality build and optics of the IX81 microscope frame, combined with the focal accuracy and flexibility provided by the ZDC2 Z-Drift compensation system, enables perfect time-lapse imaging of living cells. The new continuous mode of the ZDC2 system provides real-time control of focal accuracy, maintaining focus even during the quickest rapid-capture experiments. This new mode is also ideal for more complex applications, such as total internal reflection microscopy (TIRFM). For longer time-lapse studies, the 'one-shot' mode can be employed, maintaining accurate focus for hours, days or even weeks at a time. It also allows users to image multiple sample wells, for example those found in tissue culture plates, independently adjusting focus to provide crystal clear images from every well.

The complete system is compatible with a range of powerful Olympus hardware and software, including cellSens Dimension and xcellence, as well as integrating fully with environmentally-isolated stage incubation systems. Using the IX81 microscope system with ZDC2 Z-Drift compensation, you never need to worry about losing focus again, at least, not on your samples.


More from Agricultural & Farming Products