Inventory Management Software supports order picking by zone.
Press Release Summary: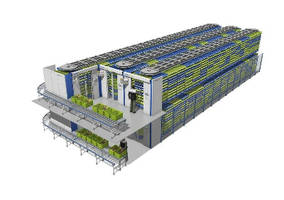 Working in combination with horizontal carousel technology, Smartpick 6000 creates order fulfillment solution with optimized efficiency and accuracy. L-shape layout shortens order picking routes, as access openings at front are close to each other, eliminating walk and search time required with shelving. With Smartpick 6000, it is possible to build zones within unit. SKUs can be slotted based on picking frequency for picker and delivered based on Goods to Person principle.
---
Original Press Release:

Smartpick 6000 Supports Order Picking by Zone



More SKUs, smaller orders, and shorter delivery times: these are the challenges wholesalers, e-commerce companies, logistics services providers and spare parts distributors are facing. To meet these challenges, Kardex Remstar has introduced Smartpick 6000 inventory management software. In combination with proven horizontal carousel technology, Smartpick 6000 creates an order fulfillment solution with the utmost efficiency, reducing travel time and increasing accuracy.



L-shape or multi-level



Combining several horizontal carousels can greatly enhance order picking performance. Typically two to four units are combined into one order picking station which usually only requires a single operator. Depending on the layout of the system and the strategies employed, several thousand order lines can be picked by one worker per shift. A number of different layouts are possible depending on the dimensions of the premises. Two horizontal carousels are commonly arranged as a double station with access openings rectangular to one another. For high throughput applications, three or four carousels are arranged in an L-shaped triple or quadruple station or stacked in a multilevel system.



Reduction of order picking travel time by up to 85 percent



The L-shape considerably shortens the order picking routes, as the access openings at the front are close to each other eliminating walk and search time required with shelving. Further, the horizontal carousels work simultaneously avoiding unproductive waiting times for the staff. With Smartpick 6000 it is even possible to build zones within a unit – for example when access is to be restricted to specific stored goods.



SKUs can be slotted based on picking frequency for the picker and delivered based on the "goods to person" principle. When items are slotted properly, the picking process is improved. Horizontal carousels reduce the order picking travel time – which takes up no less than 65 percent of the total order picking time – by up to 85 percent compared to static systems.



Kardex Remstar, LLC, a company of the Kardex Group is a leading provider of automated storage and retrieval systems for manufacturing, distribution, warehousing, offices and institutions. For information about our dynamic storage solutions, call 800-639-5805 or visit www.kardexremstar.com.



Kardex Remstar Media Contact:

Chelsea Tarr, Marketing Communications Coordinator, 207-591-3172

Chelsea.tarr@kardexremstar.com

More from Architectural & Civil Engineering Products