Introducing Trico's New Grease Identification System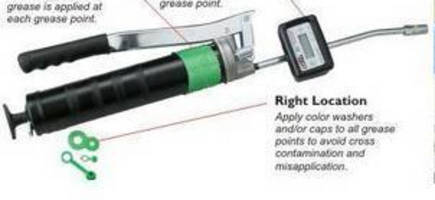 Too often the wrong grease is put into the wrong piece of equipment, which can cause an incompatibility problem that can quickly lead to bearing failure. Avoid cross contamination and misapplication with Trico's Grease Identification System. Trico's Grease Identification System ensures you are receiving the right product in the right amount at the right location.

FEATURES:

Right Product - Color grease gun bands slide over standard grease guns and do not slip after being installed.

Right Amount - Grease meter provides visual indication of the amount of grease being dispensed to the grease point.

Right Location - Color code grease points with Trico's grease fitting washers and caps.

More from Thermal & Heating Equipment