Introducing the World's First and Only MID-002 Certified High Pressure Hydrogen Flow Meter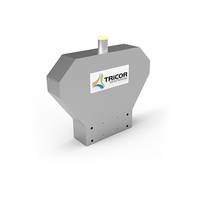 Karlsfeld, Germany and Oak Creek, WI - April 30, 2018 - KEM Küppers Elektromechanik GmbH and AW-Lake Company proudly announce that their TCMH 0450 High Pressure TRICOR Coriolis flow meter is the world's first MI-002 /OIML137 certified Coriolis flow meter for hydrogen dispensing applications.
By securing this certification, the TCMH 0450 can now be used in custody transfer applications – specifically in hydrogen dispensing stations for the fast-growing hydrogen-powered vehicle market. A recent industry report by Research and Markets predicts that over 22.2 million hydrogen fuel cell vehicles will be sold or leased worldwide generating collective revenues upwards of $1.1 trillion for the auto industry. By using the TCMH 0450 flow meter, companies can sell hydrogen fuel to end users with taxation. Without a certified fuel dispenser, the taxation of hydrogen is not possible.
Hydrogen is a very light gas that requires a high energy density to produce sufficient energy for the car," explains Marius Merten, TRICOR Coriolis Business Development Manager. "Therefore, flow meters in hydrogen dispensers must operate at high pressures (up to 1050 bar), and tolerate extreme and rapid temperature changes. These demanding conditions make it technologically difficult for custody transfer measurements to be performed according to the international regulations for gases. With the TCMH 0450 TRICOR Coriolis Flow Meter, we are the first and only manufacturer to fulfill current international regulations for hydrogen dispensing applications. This type of innovation is a core competency of our company group."
For more information on the new MI-002/OIML137 certified high pressure hydrogen flow meter from TRICOR, contact Marius Merten at merten@kem-kueppers.com.
About AW-Lake Company
AW-Lake Company, a TASI Group company, is a leading North American design, manufacturing and service company of flow measurement technology for the fluid control needs of various industries, including oil & gas, chemical processing, paints & coatings, hydraulics & pneumatics, food processing, and fluid power. Together with its European sister companies, KEM Küppers Elektromechanik GmbH, Voegtlin Instruments, and LitreMeter, AW-Lake services and distributes a broad portfolio of flow measurement instrumentation throughout North America, South America, Europe, and Asia. For information, please contact Marcia Reiff, Marketing Manager, at 800-850-6110, e-mail mreiff@aw-lake.com, or visit AW-Lake's Web site at www.aw-lake.com.
About KEM Küppers Elektromechanik GmbH
Specialized in the field of flow metering technology and calibration KEM Küppers Elektromechanik GmbH globally supplies high quality flow meters and solutions for flow measurement requirements in all sectors of industry including automotive and suppliers, chemical processing, energy and renewable, hydraulics, marine, oil and gas, pharmaceuticals and food. KEM provides Coriolis Mass Flow Meters, Turbine Flow Meters, Micro Flow Meters, Helical Flow Meters and Gear Flow Meters. Founded in 1965 KEM currently has more than 100 employees. Its headquarters are in Karlsfeld near Munich, Germany. Production along with the certified calibration center is located entirely in Bad Kötzting. In addition, the company has international branches in China (Beijing and Shanghai) and Singapore. KEM is networked worldwide with other flow measuring technology experts within the TASI Group. Further information: www.kem-kueppers.com | LinkedIn | XING. Press contact: Markus Stobbe | Marketing & Communications | T +49 (0) 8131 5 93 91-0 | F +49 (0) 8131 5 88 70 | stobbe@kem-kueppers.com.
About the TASI Group
The TASI Group of Companies is comprised of three technologically advanced product platforms commonly linked by a disciplined focus on Test, Measurement, and Assembly. Each TASI company delivers products and services to today's world manufacturing environments, focusing on Automotive, Medical Devices, Oil and Gas, Plastic Containers, Consumer and General Industrial markets. For more information about the TASI Group, visit their Web site at www.tasigroup.com.
More from Materials