Introducing System Panics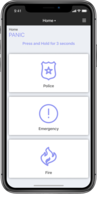 Now Customers Can Trigger a System Panic From Virtual Keypad™
SPRINGFIELD, MO — March 10, 2020 - Be sure your customers know they can use Virtual Keypad if they ever need to trigger a system panic. Now the app, as well as VirtualKeypad.com can display Police, Emergency and Fire panics in the menu, and all you need to do is add it to your customers' app user in Dealer Admin™.
"Because most people have their phones with them, we wanted customers to be able to trigger a system panic if they needed to, even if the keypad isn't nearby," says Clayton Tummons, vice president of software for SecureCom Wireless™. If there's a break-in, and you're inside, calling 911 may put you at risk of being heard talking, he added. "Without saying a word, you can silently trigger a system panic and expedite the dispatch of the type of emergency personnel you need."
To enable your customers' System Panic feature today, Dealer Admin Version 2.40.0 allows you to go to the App User section where you can select the panic options to give to your customer. Depending on what they need or what you want them to have, you'll check the appropriate boxes. When they log in to their Virtual Keypad app or website account, they'll see "Panic" displayed in their menu. To initiate a panic, simply tap Panic, then press and hold the desired panic option for three seconds.
Virtual Keypad continues to expand, giving customers more functionality and flexibility than ever before. "The System Panic functions the exact same way as if you'd initiated the panic from the keypad," Tummons adds. "We just want to make sure customers can always have access to their systems, wherever they are."
About DMP: DMP is a privately held, independent manufacturer of innovative intrusion, fire, access control, network and cellular communication products designed, engineered, and manufactured in Springfield, Mo., using U.S. and global components. DMP is the recognized leader in alarm communication over data networks, with products that are available through professional electronic security companies. For more information, contact Mark Hillenburg at MHillenburg@DMP.com or visit DMP.com.
Contact: Mark Hillenburg
800-641-4282 
More from Electronic Components & Devices