Introducing NAPCO's New GEM-P1664 Money-Saving Paks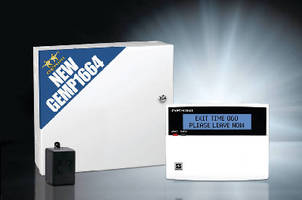 Napco has recently introduced its new GEM-P1664 hybrid 8-64 zone control communicator. This ultra panel works with all Gemini keypads and includes 8 zones that expand to 64 with multiplexing. It also supports 64 user codes, 16 relays and our new Gemini DK-Series Door-Style and VPS Series talking multifunction keypads (included in two new money-saving paks). GEMP1664DK1PK is the first of two paks offering stay/away user functionality. This powerful kit comes with EZ programming, our P1664 panel and the GEM-DK1CA door-style custom alpha blue backlit keypad with built-in 4-zone expansion module.

Our second pak, GEMP1664VPSPK, includes the P1664 panel and our new GEM-K1VPS talking custom alphanumeric dual-line blue backlit keypad. This multifunction keypad features built-in pet-PIR, UL siren, spoken voice prompts and a 4-zone expansion module. The GEM-P1664 control panel includes two 2-wire fire zones in a large 12.5" x 14" x 3.75" locking enclosure and multiplexing to accommodate up to 64 EOL zones (from alpha keypads or multiplex modules to our low-cost GEM-EZM4/8 Expansion Module). Users can program partitioning for up to 4 areas and employ their Gemini crystal-control transmitters and receivers to work seamlessly with GEM-P1664.

User-friendly keypad menu driven Self-Programming Plus (for all zones) dramatically cuts programming time and labor allowing installers and integrators to set-up more households and businesses with GEM-P1664 in less time, thus increasing their productivity. What's more, you can quickly up/download the panel remotely using our easy-to-use Quickloader software and use alpha keypad question-prompts for easy system set-up. For more information on our new money-saving GEMP1664DK1PK and GEMP1664VPSPK paks, visit www.napcosecurity.com/newproducts.html or contact our Customer Service Department at 1-800-645-9445. Trouble finding a Napco item? Dial our new stock-out hotline at 1-866-902-2444 for immediate assistance.

About NAPCO Security Technologies, Inc.

NAPCO Security Technologies (NASDAQ: NSSC) is a leading manufacturer of a wide array of security products, developing advanced technologies for intrusion, fire, video, wireless, access control and door locking systems. Our products comprising of Napco, Alarm Lock, Continental and Marks USA are sold and installed by tens-of-thousands of security professionals worldwide, from security dealers to locksmiths, to systems integrators and specifiers, in commercial, industrial, institutional, residential and government applications.

More from Material Handling & Storage