Introducing a New Tube Straightener for Automotive Plumbing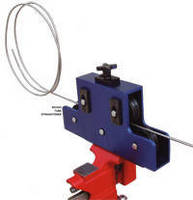 Introducing a new tube straightener, Model BQ-1025, an economical tube straightener that can handle light wall tubing from 3/16" to 1/2". It is fully adjustable, can be vice or bracket mounted and can be used on all types of annealed tubing, including stainless.

Simply feed your coiled tube into the straightener, and it comes out straight on the other side. A quick solution for the automotive plumbing systems.