Intrinsic Moisture Vapor Suppressant produces zero VOCs.
Press Release Summary: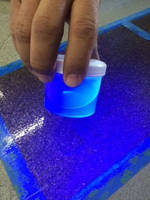 Functions universally with all adhesives and cementitious chemistries from any manufacturer, Aquaflex iMVS™ forms dense concrete/plastic matrix that elevates installation performance to 95% insitu RH and/or 12 lb MVER. Non-silicate, bio-based product is self-priming, non-flammable, and does not require mixing. Only CSP 1 surface preparation is required. Instead of blocking moisture, product suppresses moisture emissions to within flooring manufacturers' adhesive tolerance.
---
Original Press Release:

Formulators|Aquaflex Introduces Aquaflex iMVS (Intrinsic Moisture Vapor Suppressant)



Aquaflex iMVS is a patent pending moisture vapor suppressant that functions universally with all adhesive and cementitious chemistries to elevate installation performance to 95% insitu RH (F2170) and/or 12lbs (F1869) MVER.



SANTA ANA, Calif., – Formulators is proud to introduce Aquaflex iMVS™ (Intrinsic Moisture Vapor Suppressant) to its line of waterproof technologies marketed as the Aquaflex™ total moisture mitigation system. The patent pending (Serial No. 62/278,091) formulation covers a unique polymer coating mixture suited for flooring installations over concrete exhibiting measured moisture values of 95% insitu RH and/or 12lbs MVER. Aquaflex iMVS™ forms a dense concrete/plastic matrix that restricts MVER and functions universally with any adhesive/cementitious chemistry, from any manufacturer.



Aquaflex iMVS under UV light

"If it's true, the industry will continue to use moisture sensitive adhesives for flooring installations. Then, why not do what I can to help these adhesives perform equally better and to unheard of limits," said Mr. Dickens. "While iMVS doesn't replace our Aquaflex™ waterproof adhesive, it will provide the necessary crutch water-based adhesives need to perform in areas with high concrete moisture. Aquaflex iMVS is universal in its application requiring minimal prep, is self-primed, non-silicate, bio-based, zero VOC, does not require mixing, is non-flammable and fast. The performance of Aquaflex iMVS has been 3rd party qualified to elevate the tolerance of any adhesive, from any manufacturer, regardless of chemistry to 95%RH and 12lbs MVER."



"Aquaflex iMVS is a leap forward in moisture suppressant technology. Instead of blocking moisture, it suppresses moisture emissions to within flooring manufacturers adhesive tolerance. In contrast, epoxy mitigation does not suppress, rather it blocks moisture creating a completely non-breathable film. Epoxy mitigation is expensive, hazardous, time-consuming and difficult to install. The non-breathable film created by epoxy can also set in motion chemistry that leads to blistering and delamination. This situation is impossible with iMVS, just ask me for the data," said Benny Dickens, Inventor/Founder/CEO at Formulators.



Formulators prefers to work through its nationwide network of commercial contractors, independent sales representatives and Aquaflex™ trained technicians. Aquaflex™ is now specified by several leading flooring manufacturers, major national retailers and hospital networks. Aquaflex™ and now Aquaflex iMVS™ are not just proven advancements in mitigation performance but also represent clear advancements in safe, clean and environmentally responsible product formulation.



Aquaflex iMVS™



Easy... No shot-blast only CSP 1 surface prep required.

Fast... no mixing, simple one coat that's easy to spread and cures in less than 3hrs.

Safe... bio-based, "0" zero VOC, "0" odor and non-hazardous.

Self-Priming... allows application of either skim-coat or adhesive directly.

Universal... works with any adhesive, from any manufacturer, either PSA or hard-set, epoxy or acrylic.

Performance... elevate the performance of the industries worst adhesive to 95% RH and/or 12lbs MVER.



About Formulators:

Formulators, based in Southern California, was founded in 2000 as a research/development/manufacturer focusing on niche products to address failures in conventional solutions. Formulators produces Aquaflex™, a specialty building products line of flooring installation and concrete repair products centered around its patented waterproof adhesive technology. For further information on Formulators or the Aquaflex™ moisture mitigation system, please visit http://formulators.com.



Contact:

Benny Dickens

800.359.3201

More from Agricultural & Farming Products