Intralox, the Can Industry Leader, Showcases Its Solutions at Cannex 2007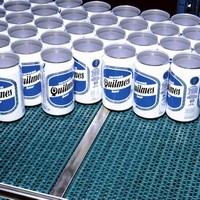 Representatives of Intralox, the pioneer and market leader of modular plastic conveyor belting, will be exhibiting in Booth #211 at Cannex 2007, held April 25-27 in Las Vegas, Nevada.

Since its inception in 1971, Intralox has served as a valuable partner to the Can industry, assisting its customers in using modular plastic conveyor belt technology to address the industry's unique challenges. Because of the depth of Intralox's experience and expertise, the company excels at dealing with the challenges of conveying the new can shapes and sizes of today's marketplace.

A testament to the value brought by a partnership with Intralox lies in the fact that 80% of Can industry end users around the world have Intralox belting operating in their plants. Intralox products are of consistently high quality, and the company brings added value to its customers' operations by focusing on continuous improvement. Intralox regularly strives to cultivate and bring to manufacturers new ideas to enhance productivity, addressing such issues as energy consumption, plant sanitation, plant floor space requirements, and self-clearing capabilities (spoilage reduction). Intralox's variety of live transfer belts and Series 1100 nosebar transfers are especially effective in these areas. Intralox customers have an advantage over their competition because of the unique associated benefits, such as:

o Money-back belt performance guarantees and on-time emergency shipping guarantees
o 400+ combinations of belt styles, materials, and colors
o Customer Service staff fluent in 12 languages and available 24 hours/day, 365 days/year
o On-time shipping record of 99.9%; 90,000 shipments routed worldwide annually
o Specially trained Account Managers poised to provide assistance anywhere in the world
o Assembly centers in North America, continental Europe, UK, Brazil, Japan, and Australia, resulting in short standard lead times
o Fast service ensured because of a 50-million-part-strong inventory
o Annual Research & Development budget of $5 million, which supports rapid introduction of new products

Improve Safety
Along with standard Acetal material, Intralox belts are available in Electrically Conductive material that helps dissipate static charges and Flame Retardant Polyester that will not actively burn (but will blacken and melt in the presence of flame). The availability of both features is important and can potentially impact worker safety and insurance premiums.

Intralox is a global manufacturer specializing in Modular Plastic Conveyor Belts that enable companies worldwide to increase conveyor productivity, decrease production costs, and minimize downtime in their plants. By partnering directly with Intralox, manufacturers can expect a lower cost of ownership on their conveyors as well as written, money-back guarantees for belt performance and on-time shipping. For further information before or after Cannex 2007, visit the Intralox Internet site, www.intralox.com.


More from Sensors, Monitors & Transducers