InterTech Service to Counter Widely Reported Problems in Automotive, Medical Device, and Other Industries Requiring Rigorous Quality Standards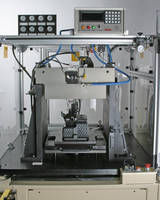 Responding to the recent rash of reports of quality failures in both the medical device and automotive industries, InterTech Development Company is now providing no-cost consultations on how to develop and maintain strict gage R&R for entire assembly and test systems, not just instruments. Having been called in to solve quality issues for global manufacturers for 35+ years, InterTech's Testing Applications Lab (http://www.intertechdevelopment.com/capabilities_detail.cgi?id_num=5 )reports that this failure to differentiate between gage R&R of test instruments vs. gage R&R of entire assembly and test systems is at the root of most quality issues on the public radar and those not yet reported.

Jacques Hoffmann, President of InterTech Development Company, comments, "This assumption that specifying the gage R&R of test instruments as being a sufficient step to maintain quality standards is very widespread but also highly mistaken. Even if quality issues do not rise to the level of the headlines we've seen in recent weeks and months, companies are taking a big hit in production inefficiencies created by failing to adequately test to appropriate gage R&R specifications at earlier stages of production and at appropriate points throughout the assembly process. Higher material costs, higher labor costs, and now defective products released to the market--these are exactly the effects of taking a manufacturer's stipulated gage R&R for a test box and equating it with gage R&R of entire test systems."

For more information on no-cost consultations on entire assembly and test system Gage R&R standardization, contact Gerald Sim, gsim@intertechdevelopment.com , +1-847-679-3377 x250.

InterTech Development Company (www.intertechdevelopment.com) is a world leader in test-centric assembly and test specializing in automated leak and functional testing with 7 patented mass flow and hydraulic technologies, as well as, helium mass spectrometry (ISO-17025 International Standards for Quality Management). InterTech Development Company-engineered solutions are used by hundreds of manufacturers worldwide. InterTech Development Company's worldwide support organization maintains offices in North America, Asia, and Europe.

More from Sensors, Monitors & Transducers