Interstate Offers Fuel Bladders Tanks That are Manufactured Using Nylon Coated Geomembrane Materials
Press Release Summary: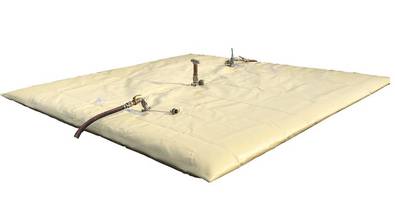 The Fuel Bladders Pillow Tanks are available for diesel fuel, jet fuel and crude oil with 250, 500, 1000, 2500, 5000, 10,000, 20,000 and 50,000 gal capacities. They are used in military, emergency management, power companies and industrial applications. The bladders are offered with ground mats, repair kits and secondary fuel bladder containment berms or liners. The units are pressure tested and approved to exacting quality standards.
---
Original Press Release:
Interstate Products Inc. Fuel Bladders Pillow Tanks
Sarasota, FL - Interstate Products Inc. (IPI) has expanded its offering of bladder tanks for fuel and water. The storage bladder tanks are available in a variety of sizes and capacities. IPI Fuel Bladders store fuel for military uses as well as Emergency Management, Power Companies, Industrial Applications and boat owners in suitable applications. 
Interstate Products Fuel Bladders are available for diesel fuel, jet fuel, crude oil and more. These flexible fuel bladders are available in military style, also known as blivets or pillow bladder tanks. Fuel Bladders are used for a variety of commercial and industrial refueling or storage applications. Manufactured using heavy-duty nylon coated geomembrane materials, our rugged and dependable storage bladders are constructed by top manufacturers to IPI's strict standards of excellence.
IPI Fuel Bladder Pillow Tank Features include:
Compact, lightweight, portable design for durability and ease of use.
All Interstate Products bladder tanks are pressure tested and approved to exacting quality standards.
Only top quality, high grade materials are used for construction.
Accessories Available:
IPI Military Style packages.
Ground Mats
Repair Kits
Variety of connections
Secondary Fuel Bladder Containment Berms or Liners.
Notes:
Always consult with State and/or Local Authorities regarding restrictions for fuel bladder use in your area prior to deployment.
EPA Regulations require secondary containment for fuel when fuel bladders are deployed.
Fuel Bladders can be used for a variety of industrial and commercial diesel fuel, jet fuel and other fuel storage applications.
Fuel Storage bladder sizes include 250, 500, 1000, 2500, 5000, 10,000, 20,000 and 50,000 gallon capacities. Contact us for larger sizes.
Interstate Products has provided Fuel and Water Bladders also known as pillow tanks for over a decade to a vast client and industry base.
For additional pillow bladder product information or a shipping quote please call us at 1-800-474-7294 and speak with an Interstate Products tank specialist.
As indicated, Secondary Containment is mandatory for fuel bladders - Spill Containment Berms are a featured product line of Interstate Products. We partner with numerous manufactures and provide expert product knowledge and service for all types of portable spill containment berm requirements. IPI also provides on-site services for spill containment berm applications.
Discover the IPI difference where you will always find tremendous value, incredible selection and unequaled service with every product we sell. Fuel Bladders are available from multiple shipping points and manufactures.
https://store.interstateproducts.com/products/Fuel-Bladder-Tanks
About Us:
Since 1996, Interstate Products, Inc. (IPI) has become a global multi-brand supplier of quality environmental, maintenance and safety product solutions to industrial, commercial, institutional, military, and various government organizations. Since its inception, IPI has experienced tremendous growth fueled by our commitment to continuously add innovative new products to meet the demands of a rapidly expanding and diverse customer base. In addition to being a leading provider of spill containment berms and flexible water and fuel bladders and pillow storage tanks – available in both standard and custom sizes, we also supply top of the line IBC and spill pallets, spill kits, outdoor drum storage, flammable safety cabinets and other safety cabinets, absorbents, material and drum handling equipment, storm water products. Additionally, IPI features water bladders and fuel bladders for storage from multiple vendors – available online or by contacting our knowledgeable sales representatives at 1-800-474-7294.
Information about these and other quality products can be obtained by visiting our company website at https://store.interstateproducts.com/
Interstate Products differentiates itself with outstanding customer service and a wide array of top of the line manufactures in our key product lines to provide an optimum customer experience. IPI has the highest customer satisfaction rating in the industry.
For more information, please contact Interstate Products at 6561 Palmer Park Circle Suite A, Sarasota, FL 34238 or call toll free1-800-474-7294 for domestic inquiries and 941-377-8610
More from Waste Management & Waste Handling Equipment