Interstate Announces Secondary Spill Containment Berm Products for Ultratech, Justrite, Eagle, Husky and IPI Models
Press Release Summary: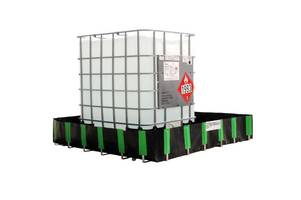 Interstate Products' has launched portable secondary containment models for GEN sets, trucks, generators, equipment, transformers, tanks and tankers. The containment mats are available in 2' x 2' to 50' x 125' sizes and various wall heights. The products are made up of different compatible fabrics for applications such as water, oil, fuel, chemicals and acids.
---
Original Press Release:
Spill Containment - Berms for Secondary Spill Containment
Sarasota, FL — Interstate Products Inc.(IPI) continues to expand our secondary spill containment berm product line with additional manufacturers; now offering Ultratech, Justrite, Eagle, Husky and an IPI private brand models. IPI has also revamped its spill containment website by expanding the portable and secondary spill containment line while adding modular spill containment products.
IPI now carries more spill berms than ever. Ultratech self-raising containments, Ultimate berms, Gorilla modular berms and collapsible spill berms; Justrite quick and rigid lock/ no loose parts spill berms; Eagle Manufacturing Talon containment berms; Husky drive-thru containments and Interstate brand portable L bracket and foam wall containment. Further, IPI provides duck pond & mini berms for secondary containment applications of all kinds.
These portable secondary containment models are for the containment of GEN sets, trucks, generators, equipment, transformers, tanks, tankers or any type of primary containment or application where spills can occur. These containment mats come in 2' x 2' to 50' x 125' sizes and in a number of wall heights. Various fabrics are used for compatibility by application including water, oil, fuel and many other chemicals and acids.
There are several containment berm models with no loose parts and other berms where brackets are inserted or alternative means of containment wall construction are engineered. Regardless if you need an economical temporary solution or a more advanced model, Interstate is your portable berm supplier that can ship from many locations in the U.S.
IPI L-Bracket Spill Containment Berms provide space-saving portable spill containment when and where you need it most. Our #1 Best Selling Berm offers superior XR-5 material and workmanship. The walls are supported by a sturdy "L" bracket frame construction that deploys quickly and is excellent for long or short-term use.
*Ten year limited warranty
Custom size berms
No custom prices
Up to 24" in height
https://store.interstateproducts.com/products/L-Bracket-Berms
Drive Over Spill Berms from multiple manufactures including UltraTech, Eagle Talon, Husky & IPI Brands. Models include secondary containment berms with exit and entry walls so that a truck or tanker may drive in and out without having to manually lower the walls. If you will be driving over frequently, the portable drive-thru berm is ideal. We do have several other drive-thru options.
https://store.interstateproducts.com/products/Drive-Thru-Berms
Rigid Lock Quick Berms
Help meet EPA Regulations including SPCC containment and storm water regulations. RigidLock Spill Berm is the berm with inside support technology which provides quick and easy deployment for drive-through, emergency, decontamination or preventative applications. Rigid Lock Quick spill berms have No loose parts & Single piece construction. 
https://store.interstateproducts.com/products/JUSTRITE-QuickBerm
Ultratech Containment Berm Models
For secondary containment are available in standard and custom sizes and many fabric options to choose from for reliable spill containment. The UltraTech berm helps comply with federal and local stormwater regulations, EPA container storage regulation 40 CFR 264.175 and SPCC requirements. The standard containment berm material of construction is Copolymer 2000™.
https://store.interstateproducts.com/products/UltraTech-Berms
One Step Spill Berm
Spill berms with no loose parts and quick set up, make the "One Step" portable spill containment berm an excellent choice for a wide variety of applications. Simply unfold the berm & lift up the walls - In seconds. 
https://store.interstateproducts.com/products/One-Step-Spill-Containment-Berms
Modular Spill Berms
The Ultra-containment modular hard walled system provides long-term, high capacity spill containment.
Modular wall sections and corners can be easily assembled to form almost any size/shape spill containment area needed. 
https://store.interstateproducts.com/products/Modular-Berms
About Us:
Since 1996, Interstate Products, Inc. has been a global multi-brand supplier of quality environmental, maintenance and safety product solutions to industrial, commercial, institutional, military and various government organizations. Since its inception, IPI has experienced tremendous growth fueled by our commitment to continuously add innovative new products to meet the demands of a rapidly expanding and diverse customer base. Our products include safety and containment products, flammable safety cabinets, absorbents, environmentally friendly chemicals and material handling equipment. In addition, IPI is also a leading manufacturer of spill containment berms and flexible storage tanks that are available in both standard and custom sizes. Information about these and other quality products can be obtained by visiting our company website at store.interstateproducts.com/
For more information, please contact:
Interstate Products
6561 Palmer Park Circle, Suite A
Sarasota, FL 34238
Toll Free Phone: 800-474-7294 Domestic Phone: 941-377-8610 if outside the United States.
The company's email address is services@interstateproducts.com and website page is store.interstateproducts.com
Contact This Company Download Spec Sheet
More from Architectural & Civil Engineering Products