Interroll's High Performance Brushless Rollerdrive Increases Efficiency and Lowers Noise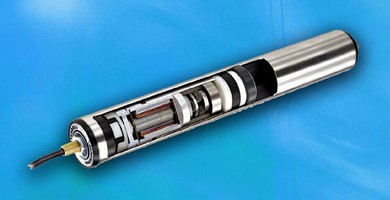 WILMINGTON, N.C., (January 23, 2007) - Providing a cost saving solution by
reducing energy consumption in the product life cycle, Interroll has developed a high
performance brushless RollerDrive that minimizes the after run of products enabling the
user to stop packages precisely. Designated the EC100, the RollerDrive is equipped
with a zero motion hold (ZMH) electro magnetic rotor brake and a re-engineered gear
box for higher efficiency and lower noise. The EC100 RollerDrive is ideal for conveying
in postal, distribution center or light pallet handling applications.

"The EC100 is a versatile motorized driven roller that can be manufactured to work with
O-rings, multi-rib belts, timing belts or chains," said Georg Malina, Global Product
Manager for Interroll RollerDrive and DriveControl. "The flexible EC100 provides our
customers with a technologically advanced and economical superior alternative to
traditional belt, line shaft, chain and sprocket drive systems."

The EC100 RollerDrive is applied with the HC-EC100 zero pressure accumulation
(ZPA) control card for a fast and convenient set up for self control stand alone conveyor systems.

The EC100 RollerDrive enables a conveying speed up to 260 fpm and torque
capabilities up to 26 in-lbf continuous torque. Noise emission levels of less than 55 dBA can be achieved during operation. Interroll's EC100 RollerDrive is available in
galvanized or stainless steel.

For more information about Interroll's EC100 RollerDrive and HC-EC100 zero pressure accumulation (ZPA) control card, call 1-800-830-9680, or fax 800-830-9679 or visit
www.interroll.us

About Interroll
Products developed by Interroll are deployed on a global scale - wherever goods have
to be conveyed, stored or distributed. Committed to excellence, Interroll offers cuttingedge solutions spanning the entire value chain, for a diverse range of industries. Interroll endeavors to establish a leading position in selected product segments for internal unit load handling - worldwide. Established in 1959 and listed on the Swiss Stock Exchange SWX, the Interroll Group currently employs 1100 people at around 25 enterprises worldwide. Directed by a strategic holding company located in
Sant'Antonino, Switzerland, the Group operates with three global business units. Within
the components segment, "Interroll Drives & Rollers" focuses on supplying regional
engineering companies and original equipment manufacturers. Within the area of modules and subsystems, "Interroll Dynamic Storage" and "Interroll Automation" have tailored their product portfolios to meet the requirements of global systems integrators, multinational corporations and end-users. Interroll develops all-embracing solutions in the field of food processing and distribution, airport technology, mail and parcel distribution, third-party logistics, automotive suppliers and pharmaceuticals.