Interroll and Conveyor Handling Company Provide a Highly Efficient Shoe Sortation Solution in the US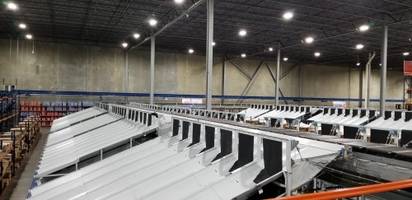 A modular material handling system for a new distribution facility in Cranberry, New Jersey for the end user Distribution Management Group Inc. (DMG) has been realized by Conveyor Handling Company (CHC). At the heart of this solution is the state-of-the-art crossbelt sorter technology from Interroll which reduces electricity costs, simplifies maintenance and makes product packing and distribution more efficient. 
Since 1975, Baltimore, Maryland-based CHC has sold, serviced, and designed an impressive array of solutions for manufacturing companies, e-commerce and retail distributors, health care and clothing producers, and more. Past projects include crossbelt sortation systems, turnkey conveyor and racking installations, automated storage and retrieval systems, multi-tiered staging lanes, and even modular offices and mezzanines.
Despite this deep expertise, CHC recently faced an interesting challenge. One of its longtime customers, Distribution Management Group Inc. (DMG), was opening a new facility in Cranberry, New Jersey. The thirdparty logistics company (3PL) would be responsible for sorting, packing, and shipping products for its clients in the footwear industry and needed material handling equipment able to reliably process and ship 100 shoe boxes per minute.
Benefitting from a new approach
Technically it was possible, just not in the way that DMG imagined. 
"They originally wanted us to design a distribution center modeled after their existing facilities," explains Rich Rittermann, Vice President of Operations at CHC. "In this instance, an employee would push a cart up and down each aisle, picking shoes as they went; when the cart was full, they'd move it to a central sorting area, where other workers would start pulling boxes off the different carts and packing them until each order was filled. There was nothing wrong with their process, except that I knew it would be too labor intensive and eventually become unmanageable at the volumes they were anticipating. They needed an automatic sortation system, and it was my job to convince them of that."
Rittermann had previous experience with such systems, but the combination of high product volumes and the need to sort color, size, and style combinations by the hundreds led him to consult with the Interroll team, who told Rittermann that they were working on a shoe distribution center in Mexico, and agreed that Interroll's horizontal crossbelt sorter would be an ideal solution
Reliable, energy efficient and easy to maintain
Unlike traditional crossbelt sorters, Interroll's solution uses a pneumatically actuated plate and drive wheel mechanism rather than a motor on each carrier to transfer goods to the appropriate chute. This reduces electricity costs and simplifies maintenance to increase reliability and the gentle motion means the sorter can be used with delicate products like eggs and yogurt and it still being powerful enough to move heavy sacks of grain or animal feed.
The system is both smart and accurate, with automatic recirculation of "no-reads" and overflow products. This is especially important in e-tail, where system demands are unpredictable, and customer return rates are much higher. The horizontal crossbelt sorter is also smart about floor space. Its modular design is compact yet easy to reconfigure based on changing needs. In this particular application, CHC "doublestacked" the conveyor, maximizing the system's throughput without increasing its footprint. 
Joining competences within an intensive and successful cooperation
"I was very pleased with the cooperation between Interroll, DMG, and the CHC installation team and project managers," says Rittermann. "It was a big step forward for our customer. They're using it every day and are shipping out 15 to 30 thousand pairs of shoes each day, with capacity for much more. They told us at the beginning of the project that they needed equipment that would be more efficient and faster for them, a system that would give them the ability to pick shoes and ship them out the door the same day, and that's exactly what we provided." 
John Roca, Vice-President of Distribution Management Group Inc., agrees. 
"Conveyor Handling Company has consistently provided high-value, excellent-quality conveyors, racks, and material handling equipment for our distribution and fulfillment operations in multiple New Jersey facilities. In fact, CHC has become our only choice for conveyor systems, sorters, material handling equipment and integrations," he says. "They have a highly skilled team that responds with practical solutions and reliable equipment, one that stands behind all of their work and offer outstanding after-the-sale service besides!" 
ABOUT CONVEYOR HANDLING COMPANY
Conveyor Handling Company (CHC) has been providing its customers with high-quality and dependable material handling solutions since 1975. Based in Elkridge, Maryland, with offices in Delaware, Maryland, New Jersey, North Carolina and Pennsylvania, this 50-plus employee company designs, integrates, and supports customers both nationally and abroad with its team of experienced sales staff, design engineers, project managers, and service technicians. Whether it's an automated conveying system, shelving and storage equipment, mezzanines, or industrial LED lighting, CHC is the one to call for material handling solutions that not only work, but work flawlessly all day, every day, for years to come.
About Interroll
The Interroll Group is the leading global provider of material handling solutions. The company was founded in 1959 and has been listed on the SIX Swiss Exchange since 1997. Interroll provides system integrators and OEMs with a wide range of platform-based products and services in these categories: Rollers (conveyor rollers), Drives (motors and drives for conveyor systems), Conveyors & Sorters as well as Pallet & Carton Flow (flow storage systems). Interroll solutions are in operation in express and postal services, e-commerce, airports, the food and beverage industry, fashion, automotive sectors, and many other manufacturing industries. Among the company's end users are leading brands such as Amazon, Bosch, Coca-Cola, DHL, Nestlé, Procter & Gamble, Siemens, Walmart and Zalando. Headquartered in Switzerland, Interroll has a global network of 32 companies with turnover of around CHF 559.9 million and 2,300 employees (2018).
INTERROLL USA LLC
159 Corporate Drive N
Hiram, GA 30141
USA
Meredith RANSOM
Phone: +1 (770) 580-8565 ·
Fax: -