Interpolating DAC offers 16-bit, 800 MS/sec operation.
Press Release Summary: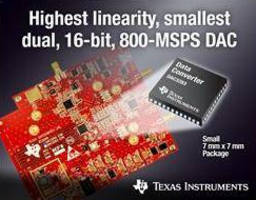 Model DAC3283, in 7 x 7 mm QFN package, provides 75 dBc third-order intermodulation distortion at 200 MHz. Spectral performance is improved with single-carrier WCDMA adjacent channel leakage ratio of 81 dBc for 153 MHz IF. Unit also offers selectable 2x/4x interpolator filters and I/Q phase and offset correction, which optimizes performance when driving quadrature modulators in 3G, 4G, and multicarrier systems with transmit frequencies from 50 MHz to 6 GHz.
---
Original Press Release:

TI Delivers Highest Linearity, Smallest Dual, 16-Bit, 800-MSPS Interpolating DAC



DAC improves spectral performance, saves space and cost in wireless communications, software defined radio and test and measurement equipment

DALLAS - Texas Instruments Incorporated (TI) (NYSE: TXN) today introduced a 16-bit, 800-MSPS interpolating digital-to-analog converter (DAC), which provides 75 dBc third-order intermodulation distortion (IMD3) at 200 MHz. Offered in a 7-mm x 7-mm QFN package, the DAC3283 is also the smallest DAC in its class, saving valuable board space in wireless communications, software defined radio (SDR), test and measurement, and power amplifier linearization applications. Incorporating a single byte wide differential interface, the DAC3283 reduces data input pins by 50 percent, allowing designers to choose a lower-cost FPGA or ASIC to precede the DAC. For more information and to order samples, visit www.ti.com/dac3283-pr.

Key features and benefits of the DAC3283

o Single-carrier WCDMA adjacent channel leakage ratio (ACLR) of 81 dBc for 153 MHz IF offers improved spectral performance while simplifying system design.

o Selectable 2x/4x interpolator filters allow for lower reduced data input rates, while taking advantage of up to 800-MSPS DAC rates.

o I/Q phase and offset correction provides better performance when driving quadrature modulators (TRF370417) in demanding 3G, 4G and multi-carrier systems with transmit frequencies from 50 MHz to 6 GHz.

o Multi-DAC synchronization support reduces design complexity for diversity and smart antenna radios.

Tools, availability and packaging

The DAC3283 is available now in a 48-pin, 7-mm x 7-mm QFN package. Pricing is $26.95 in 1,000-unit quantities. The footprint-compatible DAC3282, a 625-MSPS DAC optimized for baseband and low-IF transmitters with 2x interpolation and sinc-correction filter, is available and priced at $24.95. TI also offers the DAC3282 and DAC3283 evaluation modules (EVMs), complete with a transceiver chain that includes a high-performance clock generator (CDCE62005) and the TRF370417 quadrature modulator. The DAC EVMs are fully compatible with TI's TSW3100 pattern generator module to provide rapid evaluation.

Find out more about TI's data converter portfolio at the links below:

o Order DAC3283 samples and EVMs at www.ti.com/dac3283-pr.

o Download the latest selection guide: www.ti.com/dataconverters-pr.

o Ask questions and share knowledge in the high-speed data converter forum in the TI E2E(TM) Community: www.ti.com/dataconverterforum-pr.

About Texas Instruments

Texas Instruments (NYSE: TXN) helps customers solve problems and develop new electronics that make the world smarter, healthier, safer, greener and more fun. A global semiconductor company, TI innovates through manufacturing, design and sales operations in more than 30 countries. For more information, go to www.ti.com.

Trademarks

E2E is a trademark of Texas Instruments. All registered trademarks and other trademarks belong to their respective owners.

SOURCE Texas Instruments Incorporated

More from Packaging Products & Equipment