Interoll Partners with Holjeron to Produce Advanced Rollerdrive Control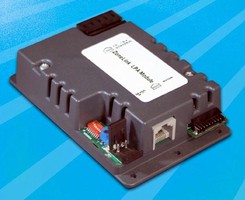 Wilmington, N.C., January 8, 2007 - Interroll Corporation has partnered with Holjeron to develop a new series of intelligent RollerDrive control products that utilize Interroll's high-quality RollerDrives and Holjeron's innovative sensorless Zonelink® Low Pressure Accumulation (LPA) control module. The result is a conveyor system that provides enhanced control capability, improved diagnostics with a lower installed cost. The LPA concept allows for low pressure accumulation, eliminating the added cost of external sensors and the associated installation components.

"To meet the growing demands of intelligent conveying systems, we have combined the best technologies of two of the major players in motorized driven rollers, Interroll's RollerDrive and Holjeron's Zonelink. This creates a superior MDR system that is a proficient alternative to today's existing conveyor technologies," said Ken Bobick, Product Manager for the RollerDrive at Interroll.

The ZoneLink-based Powered Roller Controller (PRC) senses the presence of a load by measuring current drawn by the RollerDrive. This enables the ZoneLink LPA to control downstream and upstream zones in a low pressure accumulating fashion. Each unit of the motorized driven roller system provides an input for a sensor for entry and exit control, a driver for the motorized driven roller, and two (2) RJ-45 ports for connecting to adjacent zones. ZoneLink PRC's can be configured to run in single accumulation or train mode, and can also be manually controlled through the ZoneLink serial port.

Interroll's HTBL RollerDrives reduce noise emissions to as low as 50 dBA when the RollerDrive is mounted in the structural frames, making it the quietest MDR in the industry. The RollerDrive HTBL can move up to 500 pounds with speeds ranging to 250 feet per minute.

The combination of Interroll RollerDrive and Holjeron ZoneLink controls will offer yet another alternative with improved capability to address the increasing demands for MDR solutions in any material handling application where accumulation or general transport is required, including postal and parcel distribution, warehouse conveying and order picking, distribution centers, packaging, and the pharmaceutical industry.

For more information about Interroll's RollerDrive HTBL and Holjeron's ZoneLink LPA , call 1-800-830-9680, fax 800-830-9679 or visit www.interroll.us.

About Interroll
Products developed by Interroll are deployed on a global scale - wherever goods have to be conveyed, stored or distributed. Committed to excellence, Interroll offers cutting-edge solutions spanning the entire value chain, for a diverse range of industries.

Interroll endeavors to establish a leading position in selected product segments for internal unit load handling - worldwide. Established in 1959 and listed on the Swiss Stock Exchange SWX, the Interroll Group currently employs 1100 people at around 25 enterprises worldwide. Directed by a strategic holding company located in Sant'Antonino, Switzerland, the Group operates with three global business units. Within the components segment, "Interroll Drives & Rollers" focuses on supplying regional engineering companies and original equipment manufacturers. Within the area of modules and subsystems, "Interroll Dynamic Storage" and "Interroll Automation" have tailored their product portfolios to meet the requirements of global systems integrators, multinational corporations and end-users. Interroll develops all-embracing solutions in the field of food processing and distribution, airport technology, mail and parcel distribution, third-party logistics, automotive suppliers and pharmaceuticals.

More from Electronic Components & Devices