Internet Video Recorder stores 30 days of video from 6 cameras.
Press Release Summary: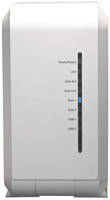 With no programming required and no computer software to install, IVR250 can record and store up to 30 days of continuous high-res video from up to 6 cameras online at up to 20 fps. Unit plugs directly into camera network and supervises itself as well as its network cameras. Napco-provided iSeeVideo site, password-protected and self-administered, lets users navigate and look up archived video.
---
Original Press Release:

Napco's iSeeVideo IVR: the Most Affordable Full-Time Video Recording Solution Available



Amityville, NY, Napco Security Technologies, Inc. --New from Napco's iSee Video, is the IVR250, a full-time internet-based video recorder whose state of the art technology provides the traditional commercial standard of a full 30-days of continuous recording, yet is affordable enough even for residential accounts, too! This is the latest in the growing line of RMR-generating remote control security and video options from the Napco iSee Video Division, and the easily installed plug-in unit can record and store up to 30 days of continuous high-res. video from up to 6 cameras online at up to 20FPS.

For security dealers, this iSeeVideo IVR (internet video recorder) is an attractive, more profitable, alternative to conventional DVRs for several reasons including a lower equipment cost and its representing a new means of getting incremental recurring revenue, marketing it to accounts as a monthly internet access service instead of a one-time hardware sale. Also advantageous, the IVR250 requires no programming, has no computer software to install and will not bog down the premise's internet network since it is plugged right into the cameras' network. And, even though the Napco-provided iSeeVideo site is password-protected and self administered by the account and extremely easy to navigate and look up archived video, the security dealer still retains 100% control and can block access if needed for non-renewal or non-payment, for example. Lastly, unlike typical DVRs which can often fail unbeknownst to anyone, the high-quality IVR supervises both itself and its network cameras (iSeeVideo IP cameras or ISEE Gateway controlled analog cameras (any) -so you and your account always know it's working.

For more information on the economical ISEE-IVR250 30-day internet video recorder see it online at www.napcosecurity.com/ISEE_IVR_250.html or contact your Napco rep or customer service at 1.800.645.9445 and ask for specifications sheet A594 (also downloadable). The IVR250 will be available for purchase at your local Napco Distributor by late January, 2010.

About iSee Video by Napco:

iSee Video is a Napco division created to develop new remote service offerings for Napco's security dealer base and to provide them with innovative, easily implemented sources of earning incremental recurring revenue. Today, it offers a line of all-inclusive remote video surveillance kits designed for residential and commercial accounts who want to keep an eye on the security of their home, vacation home, business, or satellite location. And, affordably and attractively, they can, using any smartphone, e.g., iPhone ® and Blackberry® apps or any PC or Mac with internet connection around the world. While the division's products, technologies and applications are rapidly evolving to capitalize on labor-saving and higher-resolution technologies, the offering remains steadfast, providing security professionals easy-to-install, turnkey solutions where the truly plug-and play hardware kits Napco markets includes the scalable subscriber service needed to access live or archived video on the iSee Video-supplied password-protected secure server. Its latest offerings include a full-time online video recorder which is a more affordable and reliable alternative to a traditional DVR and a virtual remote keypad which enables smartphone or web-control of any premises' alarm system.

Kathryn Papola
Director of Advertising
365 Bayview Ave.
Amityville, NY 11701
Phone: 631-225-5400 x477
Fax: 631-225-6136
www.marksusa.com

More from Health, Medical, & Dental Supplies and Equipment