Internet Security Service uses biometric authentication.
Press Release Summary: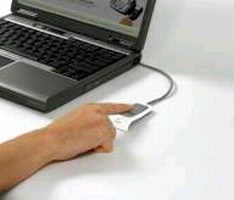 TrueMe(TM) enables users to identify themselves, interact, and transact on Web using fingerprint. By sliding finger on TrueMe-certified finger sensor, users can securely access Web-based accounts without IDs, passwords, or account numbers. Information about user's finger is encrypted inside finger sensor and combined with device ID before it is sent to authentication servers. Servers decrypt and process information, authenticate user, and ensure that he/she is authorized to use specified device.
---
Original Press Release:

TrueMe, a Service of Pay By Touch, Debuts as the First Secure Biometric Authentication Service on the Internet



Biometric Industry Leader Teams With UPEK to Deliver Compatible Finger Sensor, Bringing Robust Security Service to Internet Users Everywhere

Lenovo ThinkPads Certified to Support TrueMe; Salesforce.com Is First TrueMe-Ready Application

SAN FRANCISCO, Oct. 9 // -- Pay By Touch(TM), the leader in integrated biometric authentication, personalized marketing and payment solutions, today announced the debut of TrueMe(TM), the first secure, on- demand biometric authentication service on the Internet.

TrueMe ( trueme.com/ ) gives PC users a fast, easy and secure way to identify themselves, interact and transact on the Web using their fingerprints. By simply sliding a finger on a TrueMe-certified finger sensor, users can securely access their Web-based accounts with no need to remember IDs, passwords or account numbers. TrueMe is quick and easy to use and, most importantly, safe.

"With the continued growth of identity theft, credit card fraud and phishing scams, security on the Internet is more important than ever," said John Rogers, founder, Chairman and Chief Executive Officer of Pay By Touch. "TrueMe brings the security and protection of our industry-leading biometric services to the Internet for the first time, providing a new layer of privacy and convenience to PC users everywhere."

The debut of TrueMe is a significant milestone in Pay By Touch's continued growth and expansion into new markets. Already, more than three million Americans have enrolled in Pay By Touch's biometric payment network through 2,400 retail locations across 44 states.

TrueMe enables businesses to provide customers, partners and employees with secure, authenticated access to their computers, desktop applications and password-protected Web sites and services such as online banking, e-commerce and Internet service providers (ISPs). TrueMe's protection also extends to enterprise applications such as salesforce.com's on-demand business services.

Salesforce.com, PC industry giant Lenovo(TM) and biometric security solutions provider UPEK(R) will be among the first providers supported by TrueMe, which is being demonstrated today at salesforce.com's Dreamforce conference.* Pay By Touch selected ThinkPad notebooks for the layered security components they offer, including Lenovo's ThinkVantage Technologies and Client Security Solution.

"When we announced AppExchange, we knew that many innovative applications would follow -- from both inside and outside salesforce.com," said Marc Benioff, Chairman and CEO, salesforce.com. "We are thrilled to see TrueMe integrated with salesforce.com's on-demand business services. It brings an unprecedented level of security and convenience to our customers with minimal effort on their part."

"With TrueMe, a simple touch of the finger gives Chief Security Officers the security they demand while giving users the simplicity they desire," said Jon Siegal, Executive Vice President, Pay By Touch. "TrueMe satisfies both needs without the hassle of multiple User IDs and passwords."

Pay By Touch certified the integrated finger sensors on select Lenovo ThinkPad(R) T60 and X60 notebooks for meeting security, reliability and support criteria. "We have already shipped more than three million notebooks with fingerprint readers and our customers are excited about the added security now available on their ThinkPads using TrueMe," said Marc Godin, vice president of Marketing, Notebook Business Unit, Lenovo. "With the holiday gift-giving season approaching, Lenovo customers using biometrics will benefit from a level of security previously not available in the industry, and can feel confident that their financial information is protected while they shop online."

Teaming with UPEK to Deliver a Compatible TrueMe Finger Sensor
Pay By Touch also announced today that it has teamed with UPEK to offer a TrueMe-branded and certified USB finger sensor for users that do not have sensors built in to their PCs. The Company is also certifying millions of UPEK sensors that are already embedded in laptops and USB devices to provide finger-to-server security.

"TrueMe is integrating our unique finger security solutions into a ground- breaking authentication service" said Alan Kramer, UPEK President and CEO. "The same level of hardware-based security and convenience UPEK provides to millions of users for their personal and business computers can now be extended over the Internet by creating a trusted path between businesses and their customers."

How TrueMe Works

1. When signing on to a TrueMe enabled system, a user simply touches a TrueMe certified finger sensor built into a computer or attached as a USB device. Information about the user's finger is encrypted inside the finger sensor and combined with the unique device ID before it is sent to the TrueMe authentication servers. The user's information is never exposed to the computer operating system or to the public Internet.

2. The TrueMe authentication servers then decrypt and process the information, authenticate the user, and ensure that he or she is authorized to use the specified device. The user's authenticated identity is sent through a secure connection to the website or service that the customer is trying to access. If the person is identified as an authorized user, he or she is immediately granted access.

3. With the TrueMe service, the data on the computer can be protected with the same finger sensor used for online authentication. In addition, multiple users can share the same computer by registering their individual fingers on the TrueMe sensor without compromising security. With other security devices, sharing is nearly impossible and local data protection is not addressed.

The TrueMe service is available on a per-user, per year basis. To learn more, please visit www.trueme.com .

About Pay By Touch
Pay By Touch ( www.paybytouch.com ) is wowing the world one touch at a time as the leader in biometric authentication, personalized marketing and payment solutions. To date, the company's patented biometric services enable three million shoppers to quickly and securely access personal accounts using a finger scan to identify themselves, make purchases, earn rewards and cash checks at 2,400 locations nationwide. It also provides robust payment processing solutions for ACH (electronic checking), card-present and card-not- present debit and credit transactions for 138,000 retail clients and manages personalized rewards programs for 130 million opt-in consumer profiles. Founded in 2002 and headquartered in San Francisco, Pay By Touch employs 700 professionals and holds 50 patents worldwide on secure, convenient and cost- effective transaction solutions.# # #*Editor's Note: Jon Siegal, Executive Vice President, Pay By Touch, will demonstrate the new TrueMe service at the salesforce.com User and Developer Conference Monday, October 9th, 12:30 p.m. Expo Hall, Presentation Theater A. He will demonstrate TrueMe during the rest of the conference in the AppExchange Partner Pavilion.

CONTACT: Krista Thomas of Pay By Touch(TM), +1-415-728-2142, or krista.thomas@paybytouch.com

More from Software