Internet Protocol Software runs on PCI 104 SBC.
Press Release Summary: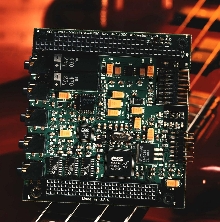 Datalight's Sockets software runs on PC/104-Plus single board computers. Command-driven Internet protocol software runs under ROM-DOS operating system, provides client and server services, and supports networking data transmission protocols, including FTP, TCP, DHCP, IP, and e-mail. Software operates via SBC's Ethernet port or RS-232. Combination is suitable for telecommunication, data communication, and information appliance applications.
---
Original Press Release:

Datalight's Sockets Technology Coupled with WinSystems' PC/104-Plus Single Board Computers Provide Small Size and Fast Tiime-to-Market for Web-Enabled Projects


WinSystems Incorporates Dataliglt 's Internet Protocol and Network Communications Software for Network-Enabled Embedded Designs

Embedded Systems Conference, San Francisco, March 13, 2002 - WinSystems, Inc. and Datalight, Inc. announce the availability of Datalight's Sockets with WinSystems' PC/104-Plus single board computers (SBCs). Sockets is a command-driven Internet protocol software package that runs on the ROM-DOS operating system providing both client and server services. Sockets supports most networking data transmission protocols, including FTP, TCP, DHCP, IP and e-mail (send and receive). Sockets can operate over the WinSystems SBC's Ethernet port or via the RS-232 ports using SLIP or using PPP and a modem. This hardware/software combination is targeted for the telecommunication, data communication, and information appliance markets where small size and an extended operating temperature range are important.

Embedded Internet Solutions with Sockets
Sockets is a suite of tools designed to Internet-enable embedded devices. It includes a compact TCP/IP stack and a complete set of applications that are designed to address real-world embedded Internet challenges. These applications include FTP server and client, for custom network communication; HTTP server and client, for remote disk updating and tile sharing; e-mail, for immediate notification and reporting; terminal emulation. for legacy terminal replacement: and print, for instant access reporting.

WinSystems' PCI104-Plus Single Board Computers
WinSystems' new PPM-TX and PPM-520 PC/104-Plus single board computers are low-cost, small form-factor, x86-compatible modules with integrated Ethernet connectivity. The processors offered are either an AMD-520 or low-power Intel(R) Pentium(R) 166/266 with 10/100 Ethernet controller, 4 COM channels and other standard I/O controllers. The SBCs measure only 3.6" x 3.8" (90mm x 96mm) and will operate from -40deg to +85deg Celsius. They are targeted for space- and power-limited embedded designs that also need network access.

About WinSystems
Recognized as a leading producer of embedded computers. WinSystems designs and manufacturers a wide range of STD Bus, PC/104 Bus and single board computers for industrial applications. It was founded in 1982 and is celebrating its 20th year of business. As a result of their commitment to provide high-quality, rugged PC-compatible products, they have gained an excellent reputation for innovative design, experienced engineering talent, and outstanding customer support. WinSystems' products are made in the USA.

About Datalight
Established in 1983, Datalight provides high-quality, cost-effective embedded system software components that help its OEMI customers develop products and bring them to market quickly. Datalight's operating systems and development tools help to create applications used on a daily basis such as pay phones, credit card terminals, medical electronics instruments, personal digital assistants, bar-code readers, global positioning systems, and smart cellular phones. Datalight is a privately held corporation located in Bothell, Washington.

More Information
For further information on Datalight's products and services, please visit the Web site at www.datalight.com or call 1-888-820-4500. For additional data on WinSystems' embedded PCs and PC/104 products please call 817-274-7553 or visit by www.winsystems.com.

More from Agricultural & Farming Products