International Steel Service Center 'Direct Metals' Supplies Galvanized Bar Grating for Overpass Project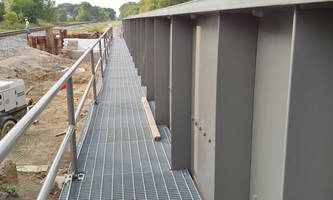 March 28, 2017 – Kennesaw, GA – Direct Metals, an international steel service center with locations in Kennesaw, GA and Waukegan, IL, recently supplied 914 sq. ft. of 1-1/2" x 3/16" Serrated Galvanized 19W4 Bar Grating from their Waukegan warehouse to Grayslake, IL for the village's Washington Street overpass project.
Direct Metals provided 22 unique part sizes of bar grating totaling 90 pieces. Each piece is notched and banded to fit around the girder stiffeners and handrail posts. The grating is attached to the structure using galvanized saddle clips and self-tapping screws.
The new Washington Street Railroad Bridge is built over Washington Street and eliminates the current at-grade railroad crossing. Construction began in 2015 and is due for completion in the fall of 2017.
Serrated bar grating is a great choice for walkway flooring because it provides extra grip for walking. Bar grating allows precipitation to pass through its open spaces, keeping rain, snow and ice from accumulating on the walkway's surface, further reducing the chance for slips by pedestrians.
Founded in 1996, Direct Metals is an ISO 9001:2008 certified company and a leader in industrial and hard-to-find metal products. Direct Metals carries one of the largest inventories in the nation of perforated metal, bar grating, expanded metal, safety grating, fiberglass grating, architectural metals, handrail components and wire mesh products. The company's products are available in carbon steel, stainless steel, aluminum, copper, brass, bronze, fiberglass or galvanized metal.
Direct Metals offers several processing capabilities, including cutting, shearing, sawing, punching, cut-outs, drilling, welding, slitting, blanking, burning, fabrication and various special finishes. It also provides expedient shipping with in-stock orders shipped by noon the same day. Direct Metals has served customers in the United States and worldwide for over 20 years.
To request a quote or place an order, call 1-800-711-4939 or email info@directmetals.com. For an online catalog, visit directmetals.com.
FOR FURTHER INFORMATION CONTACT:
John Hoover / Tom Hoover
Direct Metals Company, LLC
3775 Cobb International Blvd.
Kennesaw, GA 30152-4390
P: 800-711-4939
More from Agricultural & Farming Products