Internal Diameter Grippers secure heavy and fragile parts.
Press Release Summary: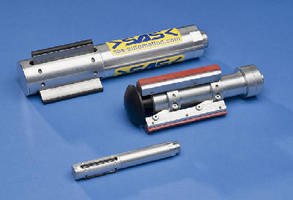 Designed to distribute forces evenly over entire contact area, Internal Diameter Grippers include Model IDG 16 with 26-38 mm diameter range and 40 N force per jaw, Model IDG 25 with 36-56 mm range and 100 N force per jaw, and Model IDG 44 with 60-132 mm range and 400 N force per jaw. Units require one compressed air line and utilize 1/8 in. diameter Neoprene rubber cord stock inserts for secure grip. Nose adapter can be customized for locating or part stabilization.
---
Original Press Release:
SAS Automation Announces Wide Range of Internal Diameter Grippers
The IDG is a cost effective solution when compared to bladder grippers and automated or magnetic clamps. The IDG now comes in three sizes to accommodate very small, to very large or fragile parts. The IDG grips and releases on command and is highly recommended for manipulating breakable parts as well as heavy parts. Unlike standard clamps, the IDG distributes forces evenly over the entire contact area making the IDG ideal for irregular shaped parts. o IDG 16
(small diameter range: 26mm - 38mm)
o IDG 25
(medium diameter range: 36mm - 56mm)
o IDG 44
(large diameter range: 60mm - 132mm) Force per jaw:
o IDG 16 (40 N)
o IDG 25 (100 N)
o IDG 44 (400 N) Significant Features:
o Secures heavy parts
o Nose adapter can easily be customized for locating or part stabilization.
o Requires one compressed air line; spring return
o Ø1/8" Neoprene rubber cord stock inserts ensure a secure grip - and can be replaced at low cost. Other elastomers can be used and are commercially available.
o Can be either mounted using our standard tubing clamps or hard mounted to a custom plate.
o Material used can be changed depending on your application. "This new gripper is simply a better clamping method for managing a wide range of parts that are hard to handle - at a reduced cost," said Rob Dalton, General Manager for >SAS< Automation. About >SAS< Automation
>SAS< is a leading supplier of modular Robotic End-of-Arm Tooling, EOAT components, and gripper systems, capable of servicing any part and any robot. >SAS< manufactures in the USA "get a grip!", and distributes Nile sprue nipper line, and Asian chucking/gripper line. >SAS< is ISO 9001:2008 Quality Certified. Specialists in Robotic End-of-Arm Tooling & Gripper Systems, Sprue Nippers, CNC Degating & Insert Mold Tooling for general material handling, palletizing, packaging & plastics industries. Sales, service & support to: USA, Canada, Mexico, Europe. USA Company Contact:
Rob Dalton
rdalton@sas-automation.com Corporate Office - USA:
SAS Automation, LLC
1200 South Patton Street
Xenia, OH 45385 USA
TEL: +1 937- 372-5255
FAX: +1 937- 372-5555
getagrip@sasgripper.com www.sasgripper.com
More from Sensors, Monitors & Transducers