Interlocking Wheel Chock prevents drive aways.
Press Release Summary: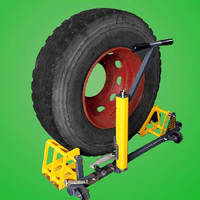 Using safety interlocking to eliminate human error and enforce safety procedures, Salvo™ Chock restrains vehicles at loading docks during loading/unloading. Unit is designed for straight trucks and other vehicles that cannot be locked out with Salvo glad hand lock. To operate, drivers position chock and clamp 2 halves together around wheel using foot pedal, releasing trapped key. Key is then transferred to loading dock control panel, allowing loader inside warehouse to open door.
---
Original Press Release:

New Vehicle Restraint Prevents Drive Aways



Salvo™ Chock quick and easy to use



Chicago, Illinois  – Industrial safety specialist Castell's interlocking wheel chock, Salvo™ Chock is specifically designed for restraint of straight trucks and other vehicles that cannot be locked out with a Salvo glad hand lock. Ideal for demanding loading yard conditions, the chock is light, strong, easy to use and fast to maneuver.



The Salvo system restrains vehicles at loading docks during loading or unloading. Its technology uses safety interlocking to eliminate human error and enforce safety procedures. If the Salvo Chock is not properly fitted, the loading dock door cannot be opened.



Drivers position the chock and clamp the two halves together around the wheel using a convenient foot pedal, releasing the trapped key. The key is then transferred to the loading dock control panel, allowing the loader inside the warehouse to open the door and begin safely loading or unloading.



To remove Salvo Chock, the loader must first close the loading dock door. The driver can then remove the key from the control panel and return it to the chock. Inserting the key unlocks the chock and traps the key until it is again properly fitted on a tire.



Launched eight years ago to prevent drive aways in the logistics industry, the Salvo range has grown to address key market needs. It includes manual and automatic door systems, brake line locking options, accessories and a new efficiency enhancing software program. DockMonitor software captures operational data such as loading time, number of operations, idle time and available time measure performance while still guaranteeing safety.



To learn more about the Castell's Salvo, visit www.Castell.com, call 312-360-1516, or email ussales@castell.com.



This Press Release and an archive of all Castell news can also be found on the Castell News Blog at http://halmapr.com/news/castellusa/ 



About Castell:

Since the inception of the industrial safety industry, Castell (www.Castell.com) has been the leader in trapped key interlocking technology, developing products that keep pace with the needs of emerging markets and applications in all business sectors. Its products go beyond meeting legislation to create the safest working environments possible. A Halma company, Castell has its US offices in Chicago, Illinois.



Halma PR Profile:

Halma PR Services provides a range of media relations services to support Halma plc subsidiaries. Halma subsidiaries operate world-wide and make products for hazard detection and life protection.

Follow Halma PR on:                      



Lisa Wallner

PR Manager

Halma Holdings Inc.

11500 Northlake Drive

Suite 306

Cincinnati, OH 45249

USA

Tel:     +1 513 898 8005

Fax:   +1 513 898 8006

Email: lisa.wallner@halma.com

Web:  www.halmapr.com

More from Material Handling & Storage