Interior Permanent Magnet (IPM) Brushless Motors from Applimotion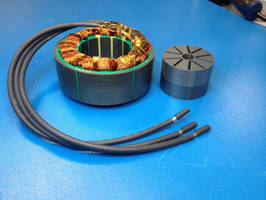 Applimotion's ULT, UTH, UTS, and UTO frameless motor kits cover a wide range of applications in direct drive motion control with their large through-hole surface permanent magnet (SPM) rotor configurations. Applimotion is now offering interior permanent magnet (IPM) versions of these motor kits extending capabilities to new applications.



These IPM frameless motor kits cover sizes from 44 mm to 533 mm diameter and torque outputs that exceed 1000 NM. The IPM designs provide a combination of higher continuous torque output, smooth operation, higher inductance, and minimized magnet content for cost effective performance to suit the application. The motors can be optimized for 12 to 600 volt applications by modifying the winding.

 

IPM motors are finding their way in to many special purpose applications in robotics, warehouse automation, remotely controlled/unmanned vehicles and traction drives, which require high torque at low speeds plus a wide speed range. IPMs have a unique ability to provide wide constant power output range when controlled correctly without the need for special magnet wraps and retaining bands for high speed operation.



Applimotion, Inc. is located in Loomis, CA. The company's goal is to make unique brushless motors and motor components affordable. With expertise in motor design and motion engineering, Applimotion engineers create application specific motors for OEM customers. Whether it's a low volume performance driven application produced at its CA facility, or a high volume value driven off shore manufactured motor, Applimotion has a solution.