Interface Transceiver Chipset supports 3.3 V logic.
Press Release Summary: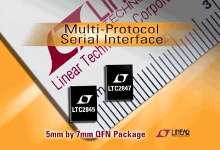 Models LTC2847/LTC2845 come in 5 x 7 mm QFN packages and provide multi-protocol serial port for LAN and WAN equipment with remote access ports. Two-chip solution includes configurable transceivers for data and clock signals with on-chip switchable termination resistor networks and transceivers for control signals. Units operate from single 5 V supply and support RS232, RS449, EIA-530, EIA-530-A, V.35. V.36, and X.21. DTE or DCE configurations can be selected.
---
Original Press Release:

Multi-Protocol Serial Interface Port Supports 3.3V Logic and Includes Integrated Switchable Termination Two Chip Set in QFN Packaging Provides Smallest Overall Size


MILPITAS, CA - August 14, 2003 - Linear Technology Corporation introduces the LTC2847/LTC2845 interface transceivers in the 5mm x 7mm QFN packages with integrated cable termination. The two parts in these tiny packages form the smallest multi-protocol serial port for Local Area Networking (LAN) and Wide Area Networking (WAN) equipment with remote access ports.

Operating from a single 5V supply with a separate logic supply input, the LTC2847 generates the necessary rails for all the supported protocols. The separate logic supplies on both parts allow them to interface with 3V logic levels on most processors and FPGAs. The two-chip solution includes configurable transceivers for data and clock signals with on-chip switchable termination resistor networks and transceivers for control signals. These can be configured for RS232, RS449, EIA-530, EIA-530-A, V.35, V.36 and X.21 protocols. DTE or DCE configurations of any of the protocols can be selected simply with three mode selection pins.

The LTC2847 has three configurable drivers and receivers for the data and clock signals, integrated cable termination as well as the charge pump to allow the entire chip set to operate from a single supply. The LTC2845 contains five configurable drivers and receivers for the control signals, including the optional local loopback, remote loopback and test mode signals.

The LTC2847 and LTC2845 are both offered in the 5mm x 7mm QFN packages, making it the smallest overall solution for multi-protocol serial interface ports. When ordered in quantities of 1,000 pieces or more, the LTC2847/LTC2845 chip set begins at $17.90 each. Parts are offered for the commercial and industrial temperature ranges and are available from stock.

Summary of Features: LTC2847/LTC2845 Chipset
Software-Selectable Transceiver Supports: RS232, RS449, EIA-530, EIA-530-A, V.35, V.36, X.21
Software-Selectable Cable Termination
Operates from a Single 5V Supply
Separate Supply Pin for Digital Interface Works down to 3V
5mm x 7mm 36-Lead QFN Packages
Chip Set Provides a Complete DTE or DCE Port

Company Background
Linear Technology Corporation was founded in 1981 as a manufacturer of high performance linear integrated circuits. Linear Technology products include operational, instrumentation and audio amplifiers; voltage regulators,power management devices, DC-DC converters and voltage references; comparators; monolithic filters; communications interface circuits; one-chip data acquisition sub-systems; pulse-width modulators and sample-and-hold devices; and high frequency devices. Applications for Linear Technology's high performance circuits include wireless and broadband telecommunications infrastructure, cellular telephones, networking products and satellite systems, notebook and desk top computers, computer peripherals, video/multimedia, industrial and medical instrumentation, automotive electronics, factory automation, process control, military and space systems, and high-end consumer products including digital cameras, MP3 players and other electronic products.

READER SERVICE: Call toll-free 1-800-4-LINEAR (for literature only), or go to the company's web site: www.linear.com


More from Communication Systems & Equipment