Interface programs Allen Bradley PanelView.
Press Release Summary: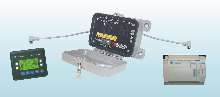 GracePort(TM) DSX R-Series Crossover Switch offers through-the-door programming interface for Allen-Bradley PanelView and Allen-Bradley PLC systems. It mounts on outside of enclosure, allowing user to program either PLC or PanelView from single port. When programming is completed, user returns interface to RUN mode. DSX uses no electronics and requires no software. Product is available in UL/CSA approved NEMA 12/4, 4X, 1 or NEMA 4X stainless steel housings.
---
Original Press Release:

GracePort(TM) R Series Interfaces-Convenience for Programming Allen-Bradley PanelView


[Davenport, IA: May 1, 2003] - Designed to offer convenient "through-the-door" programming interface for Allen-Bradley PanelView and Allen-Bradley PLC's (with serial ports) systems. In many of these applications, the serial port has a dual role: communication and programming. Programming requires the user to open the panel door, unplug the RUN cable, then plug in the programming cable. The GracePort(TM) DSX R-Series Crossover Switch mounts on the outside of the enclosure, thereby allowing the user to program either the PLC or the PanelView from a single port. When programming is completed, the user returns the interface to "RUN" mode. The DSX uses no electronics and requires no software. This product is available in UL/CSA approved NEMA 12/4, 4X, 1 or Nema 4X stainless steel housings (type 304 and 316 available)

The R-Series DSX is designed for use with PanelView 300-1400 and 300 Micro, Most Allen-Bradley serial PLC's such as: SLC 5/03, 5/04, 5/05 (Channel 0); ControlLogix (Channel 0); MicroLogix 1000, 1200, 1500LSP (8MDIN Channel); MicroLogix 1500LRP (Channel 0); CompactLogix (Channel 0); FlexLogix (Channel 0)

These products are sold as complete kits which includes: Qty (2) Interface Cables (PLC to DSX, & PanelView to DSX), Programming Cable, Communications Key, GracePort DSX Assembly with 120 VAC Outlet and Knurled screw closure.

Grace Engineered Products, the manufacturer of GracePort(TM) Convenience Interfaces, brings connections from the inside to the outside of control panels. Grace provides over 5000 different combinations of cables, connectors, and outlets in NEMA 1/12/4/4X, stainless steel, and Nema 7/9 housings. All ports are clearly marked as to their function. Orders are processed on a one-piece minimum with a typical 3-5 day delivery.

Phil Allen
Grace Engineered Products
5000 Tremont Ave Suite 203
Davenport, IA 52807
philallen@grace-eng.com
http://www.grace-eng.com
563-386-9596
FAX 563-386-9639

More from Controls & Controllers