Interface Panels support 3rd party HMI and SCADA software.
Press Release Summary: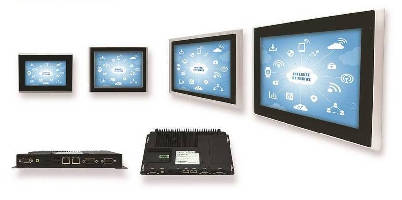 Available with analog resistive single-touch and projected capacitive multi-touch displays ranging from 7–24 in., PC-Based Automation and Operator Interface Panels enable users to leverage TCP/IP-based networking, HTML5 web browsers, web-enabled HMI/SCADA, industrial automation, field mobility, M2M, Industry 4.0, and IIoT applications. Windows-based units, when used with 3rd party SCADA software, provide actionable data that helps users optimize efficiencies and meet key performance metrics.
---
Original Press Release:

AIS's PC-Based Automation Panels Provide an Easy and Reliable Way to Connect 3rd Party HMI and SCADA Software & Services



AIS's Operator Interface Panels with Internet-based Technology Offers Cost Efficient, Web-Based HMI, SCADA and M2M Industrial Automation Solutions



IRVINE, CALIFORNIA – American Industrial Systems, Inc. (AIS); a leader in the development, engineering and manufacturing of open architecture, PC-based HMI solutions, Industrial panel (IPCs) and touch-panels for a variety of industries and applications; introduces their new PC-Based Automation and Operator Interface Panels. The new industrial, windows-based operator interface panels are based on AIS's time-proven and highly successful HMI hardware engineering, design and customization. AIS customized, window-based touch-panels when coupled with 3rd party HMI and SCADA software packages and services providers, offer a powerful combination for OEMs of industrial machinery and equipment and end-users across a wide assortment of industrial applications.



Application requirements for Human Machine Interface (HMI) and Supervisory Control (SCADA) solutions range greatly from simple OEM machine control to complex batch process automation and control. AIS's HMI Operator Interface Touch-Panels with 3rd party SCADA software solutions and services provide actionable data and information that empower users to improve operational efficiencies, reduce maintenance costs and meet key performance metrics. Some additional benefits of an AIS powered, rugged, PC-based automation panels include:

• Easy operation and intuitive use

• Less engineering time, easy configuration and set-up

• Reduced down time and maintenance due to predictive analytics

• High availability, reliability and system security

• Virtually unlimited scalability and flexibility

• HMI visualization and geographically-distributed SCADA

• Template-based development and maintenance

• Remote application deployment and change management

• Data level security built into the system

• Easy and flexible alarm definition

• Data collection and analysis for new and existing systems

• Easy-to-use report generation

• Open access to historical data



AIS's Web-Based, HMI Technologies and PC-Based Automation Panels Meet the Changing Requirements for Manufacturers and End-Users in Today's Digital Plant and Facilities

AIS's Web-based HMI Operator Interface Panels represent the solution for the evolving needs of factories and plants for digital touch-panel displays with wireless connectivity to the Internet and other networks. Over the past 40 years, technology has evolved dramatically for HMIs to accommodate the ever changing needs of manufacturers and end-users. Wireless, mobile and Web technologies are driving the growth in the HMI and related software market. More than simply providing local supervision for the process, AIS's HMI and visualization systems packaged with SCADA software will work as the link between the Plant-Floor and the ERP systems. By streamlining internal processes and utilizing technologies like web, wireless and mobile communications, a company can leverage AIS's windows-based platform, Industrial HMIs along with 3rd party SCADA software tools to realize the complete benefits of Enterprise Resource Planning (ERP) and MES production management systems. These include:

• Monitor and update maintenance with reports and alarms and then route the data wirelessly to the appropriate parties

• Maintain plant-floor applications by simplifying maintenance of distributed applications and remote management of plant floor devices by using Web infrastructure to reduce cost and improve efficiency

• Plant information can be accessed quickly and easily from anywhere in the world when utilizing a Web browser

• Provides tighter integration and control of suppliers with the use of data exchange standards such as XML. This provides the means to transparently exchange information between customers, manufacturing operations and suppliers.



AIS's New Series of Automation Panels are Rugged and Nearly Maintenance Free for Both Harsh and Commercial Environments

AIS's Industrial, PC-based Automation Touch-Panels and Operator Interface Panels allow compatibility with Web, PLC, HMI, SCADA and MES applications. Its open and flexible architecture design ensures network security and enables users to leverage TCP/IP-based networking, HTML5 Web Browsers, Web-enabled HMI/SCADA, Industrial Automation, Field Mobility, M2M, Industry 4.0 and IIoT applications. The next generation of HMIs from AIS includes new Premium, Standard and Compact series of operator touch-panel displays. They are available in high quality touch panel displays with both analog resistive single-touch and projected capacitive multi-touch, ranging from 7" to 24" screen sizes. AIS automation panels are rugged and certified with UL/cUL/CB 61010 and 62368 for automation, information and communications (ICT) applications.



AIS recently introduced their new series of HMIs, including: the Premium, Standard and Compact HMIs. Key features of the entire range of new, open HMI touch panels from AIS include:

• Open & standard interfaces in hardware & software for HMI, SCADA & MES applications

• PC-based automation using standard Ethernet & TCP/IP for easy HMI/SCADA & IT/OT integration

• Web-enabled HMI with HTML5-compliant web browsers for improved real-time decision making

• Easy to replace, highly modular designed field-replaceable front display and box PC

• Maintenance-free illumination system with lifetime rating of 80,000-100,000 hours on Eco mode

• Expandable HMI solutions with multiple configurations & options for fast project engineering

• International marks and schemes for safety equipment, certification and regulatory compliance

• Suited for IT-OT convergence, M2M communications, Industry 4.0 and IoT ready for future requirements



About AIS

Headquartered in Irvine, California, USA, American Industrial Systems, Inc. (AIS) offers in-house electronic and mechanical design, software development, manufacturing, production and quality control services. Offering one of the widest ranges of industrial computing solutions, AIS solutions are available in a multitude of configurations for industrial, oil & gas, military and marine applications. The company is fully committed to empowering, improving and delivering turnkey HMI, monitoring and display solutions for OEM, ODM and end-user customers. AIS is an ISO 9001:2008 certified supplier and manufacturer of rugged computers and displays, and received completion of the International Traffic in Arms Regulations (ITAR) registration from the Directorate of Defense Trade Controls (DDTC). For more information, visit: www.aispro.com, email: sales@aispro.com or contact: 1-888-485-6688.



Media Relations Contact:

American Industrial Systems, Inc.

David G. Martorana

Marketing & Public Relations

1.847.630.6487 or dynmarent@gmail.com







More from Sensors, Monitors & Transducers