Interface Module is compatible with AS-i specification 2.1.
Press Release Summary: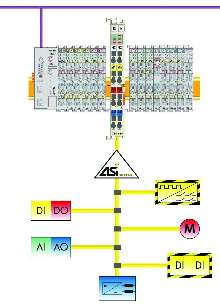 Model 750-655 AS-i Master network interface module allows seamless integration of AS-i bus protocol as sub-network to other bus protocols such as Ethernet, PROFIBUS, DeviceNet, and MODBUS. Housed in 12 mm wide package, unit can support up to 62 A/B slave devices and offers flexibility to wire network in star, line, branch, or tree configuration. It includes diagnostics to indicate errors, status indication, and short circuit/overload protection.
---
Original Press Release:

WAGO Introduces AS-i Network Master Module


WAGO Corporation is pleased to introduce the new 750-655 AS-i Master interface module as part of the WAGO-I/O-SYSTEM. This module allows easy, fast, and seamless integration of the AS-i bus protocol as a sub-network to other popular bus protocols such as Ethernet, PROFIBUS, DeviceNet, MODBUS, etc.

"By integrating an AS-i master into our classic I/O module housing, WAGO is able to cost effectively bundle inputs and outputs, and at the same time add special functions, such as serial interfaces, with connectivity to many popular bus networks," said Mark DeCramer, Advanced Electronics Product Manager at WAGO.

The AS-i master is housed in a compact 12mm wide package and is easily integrated into the I/O node the same way as other 750 series I/O modules. The module is 100% compatible with the AS-i specification 2.1 and all AS-i devices (such as e-stop, sensors, actuators, safety components, etc.). It is said to be downward compatible and is easily integrated into existing applications, since the new module is capable of communicating with existing AS-i slaves devices.

The AS-i master from WAGO can support up to 62 A/B slave devices and offers the flexibility to wire the network in star, line, branch or tree configuration to meet the increasing demands for versatility in AS-i applications. Configuration is easily accomplished using the WAGO-I/O-CHECK software program and the serial port provided on all WAGO-I/O-SYSTEM Bus-couplers. Additional features/benefits include enhanced diagnostics to indicate errors created by over extended bus lengths or EMC issues, status indication for "Safety at Work" slave devices, and short circuit/overload protection.

The 750-655 is currently available from stock and is competitively priced at $324.00 each.

All WAGO-I/O-SYSTEM components utilize CAGE CLAMP(TM) spring pressure connection technology for fast, highly reliable, vibration proof, temperature cycling resistant, corrosion resistant, and maintenance free connection.

WAGO is the worldwide leader in spring pressure connection technology designed to eliminate loose wires as a result of vibration and temperature cycling, as well as provide a highly reliable, corrosion resistant, and maintenance-free connection. Our complete line of spring pressure connection products include DIN rail mount terminal blocks, chassis mount terminal blocks, PCB mount terminal blocks, relays, signal conditioners, power supplies, surge suppressors, the WAGO I/O SYSTEM and more.

For more information contact WAGO at 1-800-DIN-RAIL, info.us@wago.com, or www.wago.com.

Cathy Campbell
Marketing Promotions Coordinator
WAGO Corporation
Phone: 262.255.6333 ext 135
Fax: 262.255.3232
catherine.campbell@wago.com

More from Construction Equipment and Supplies