Interface Controller enables development of PoE devices.
Press Release Summary: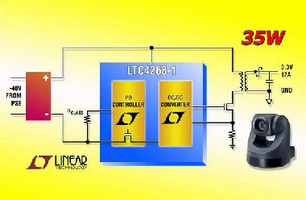 Featuring synchronous, current mode, switching regulator, Model LTC4268-1 delivers precise regulation to powered devices. It provides up to 35 W for 2-pair systems and as much as 80 W for 4-pair systems. Controller incorporates NoOpto feedback topology to provide full IEEE 802.3 isolation without need for optoisolator circuitry. Feedback amplifier senses output voltage through transformer winding during flyback period and uses voltage to tightly regulate output.
---
Original Press Release:

35W Power over Ethernet PD Controller with Synchronous NoOpto Flyback Controller



Bridges the PoE+ Gap

MILPITAS, CA - August 28, 2007 - Linear Technology introduces the LTC4268-1, a Power over Ethernet (PoE) interface controller with a synchronous, current mode, switching regulator for delivering precise regulation and high efficiency to power-hungry Powered Devices (PDs). The LTC4268-1 provides up to 35W for 2-pair systems and as much as 70W for 4-pair systems. As the momentum for PoE continues to grow, the LTC4268-1 bridges the gap to enable development of innovative high-power PoE devices in anticipation of the evolving PoE+ (IEEE 802.3at) standard.

At the heart of the LTC4268-1 is a high-performance switching regulator optimized for isolated PoE applications. The LTC4268-1 incorporates Linear Technology's patented NoOpto feedback topology to provide full IEEE 802.3 isolation without the need for optoisolator circuitry. A feedback amplifier senses the output voltage through the transformer winding during the flyback period and uses this voltage to tightly regulate the output. The transformer isolates the load from the input supply and provides feedback, improving output transient response and overall reliability. The synchronous flyback converter provides a low part count design with the advantage that additional outputs can be obtained by simply adding windings. Synchronous rectification offers the benefit of higher output power, increased conversion efficiency and improved cross regulation in applications with multiple outputs. The LTC4268-1 offers the flexibility of programmable switching frequency from 50kHz to 250kHz for optimized power supply design. In low-noise system designs, the controller can be synchronized to an external oscillator.

The LTC4268-1 includes a field-proven PD controller front end for worry-free use in hostile PoE environments. By incorporating a precision dual current limit, the LTC4268-1 ensures trouble-free interoperability with any Power Sourcing Equipment (PSE). The LTC4268-1 is capable of handling 750mA with the lowest on-resistance (0.55 Ohm typ) Hot Swap(TM) MOSFET on the market. The ultra-low FET on-resistance minimizes device heating and improves overall efficiency. For even higher output power, the normal current limit can be disabled, allowing implementation of proprietary, ultra high-power designs.

Specified over the commercial and industrial temperature ranges, the LTC4268-1 is offered in a space saving 32-pin 7mm x 4mm thermally enhanced DFN package. Available today, pricing begins at $2.40 each in 1,000 piece quantities.

Summary of Features: LTC4268-1
o Robust 35W PD Front End
o IEEE 802.3af Compliant
o Rugged 750mA Power MOSFET with Precision Dual Level Current Limit
o High Performance Synchronous Flyback Controller
o IEEE Isolation Obtained without an Optoisolator
o Adjustable Frequency from 50kHz to 250kHz
o Tight Multi-Output Regulation with Load Compensation
o On-board 25k Signature Resistor
o Programmable Classification Current to 75mA
o Complete Thermal and Over-Current Protection
o 32-Pin 7mm x 4mm DFN Package

About Linear Technology
Linear Technology Corporation, a manufacturer of high performance linear integrated circuits, was founded in 1981, became a public company in 1986 and joined the S&P 500 index of major public companies in 2000. Linear Technology products include high performance amplifiers, comparators, voltage references, monolithic filters, linear regulators, DC-DC converters, battery chargers, data converters, communications interface circuits, RF signal conditioning circuits, and many other analog functions. Applications for Linear Technology's high performance circuits include telecommunications, cellular telephones, networking products such as optical switches, notebook and desktop computers, computer peripherals, video/multimedia, industrial instrumentation, security monitoring devices, high-end consumer products such as digital cameras and MP3 players, complex medical devices, automotive electronics, factory automation, process control, and military and space systems. For more information, visit www.linear.com

LT, LTC, LTM and are registered trademarks and Hot Swap is a trademark of Linear Technology Corp.

John Hamburger, Director Marketing Communications
jhamburger@linear.com
Tel: 408-432-1900 ext 2419

More from Electronic Components & Devices