Temperature Sensors / Detectors / Transducers
Interchangeable Thermistors feature tight tolerances.
Press Release Summary: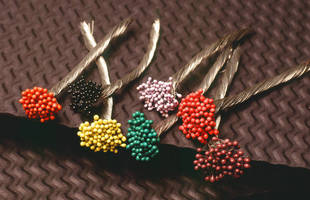 Offering alternative to RTD probes and thermocouples, 2.4 mm dia ACCU-Curve series provides long-term stability and reliability for temperature sensing, control, and compensation in medical, industrial, and automotive applications. Epoxy-coated thermistors have 32 AWG tinned-copper leads and come in 4 resistance values – 2.252, 3.0, 5.0, and 10 kΩ – at 25°C with dissipation constant of 1 mW/°C and thermal time constant of 10 sec. Tight tolerances is ±0.2°C from 0 to +70°C.
---
Original Press Release:

New Ametherm ACCU-Curve Series of Interchangeable Thermistors Features Tight Tolerances of ± 0.2 °C for High-Accuracy Temperature Measurement



Devices Deliver Long-Term Stability and Fast Thermal Response Time for Medical, Industrial, and Automotive Applications



CARSON CITY, Nev. – Ametherm today introduced a new series of interchangeable thermistors that provide long-term stability and reliability for high-accuracy temperature sensing, control, and compensation. ACCU-Curve series thermistors are available in a wide range of resistance values, with tight tolerances of ± 0.2 °C between 0 °C and 70 °C and fast thermal response times.



Providing designers with faster, less-expensive alternatives to RTD probes and thermocouples — without compromising on accuracy — ACCU-Curve series devices deliver the tight tolerances required for temperature measurement in critical medical instrumentation, and they can be potted in a variety of housings for temperature compensation circuits in industrial and automotive applications.



Offering diameters of 2.4 mm and 32 AWG tinned-copper leads, the epoxy-coated thermistors are available in four resistance values at 25 °C — 2.252 kΩ, 3.0 kΩ, 5.0 kΩ, and 10 kΩ — with a dissipation constant of 1 mW/°C and thermal time constant of 10 s.



The devices are available direct or through distributors such as Digi-Key and Mouser. Samples and production quantities of the thermistors are available now, with factory lead times of 12 weeks. Volume pricing for U.S. delivery starts at $1.25 per piece.



For more information or to request a sample, visit www.ametherm.com. Or call 800-808-2434 (toll free in the United States) or 775-884-2434 from outside the U.S. and Canada.



About Ametherm

Ametherm, headquartered in Carson City, Nevada, was founded in 1994 and specializes in inrush current limiting power thermistors for circuit protection in the power market industry. Ametherm's devices are some of the highest rated in the industry and provide the widest range of inrush current protection available. For more information, visit www.ametherm.com or call 800-808-2434.



Link to datasheet: http://www.ametherm.com/thermistor/precision-interchangeable-thermistor.



Link to product photo: http://www.redpinesgroup.com/Ametherm/Ametherm_ACCU-Curve.jpg.



Agency Contact:

Bob Decker

Redpines

+1 415 409 0233

bob.decker@redpinesgroup.com

Website:



Ametherm Contact:

Lori Morton

Ametherm

+1 775 884 2434

lori@ametherm.com

More from Services