Interchangeable Probes facilitate water analysis testing.
Press Release Summary: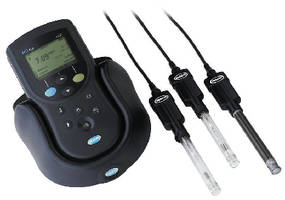 Designed for HQd line of meters, IntelliCAL(TM) Probes provide portable measurement of ORP, sodium, and pH for low-ionic strength samples for analysis in lab or field. When switching between parameters, operator plugs IntelliCAL probe into HQd meter. System automatically recognizes testing parameter from probe and recalls calibration history. It uses intuitive menu structure along with guided measurement and calibration methods. Conductivity, DO, and LBOD probes are also available.
---
Original Press Release:

New IntelliCAL(TM) Probes Make Hach HQd the Smart Choice for Multi-Parameter Lab and Field Measurement



Interchangeable probes plus one HQd meter equals a full suite for water analysis testing

Loveland, Colo. - June 17, 2009 - Hach announced three new fully interchangeable IntelliCAL(tm) probes for its HQd line of meters. These probes provide portable measurement of ORP, sodium, and pH for low-ionic strength samples for analysis in the lab or field.

With the addition of these new probes, Hach now offers a full suite for electrochemistry testing including BOD, Conductivity, DO, ORP, pH, and sodium. Unlike other probes on the market, all IntelliCAL probes interchange fully with a single meter. When switching between parameters, the operator simply plugs the IntelliCAL probe into the HQd meter. The system does the rest, automatically recognizing the testing parameter from the probe and recalling the calibration history. System operation, equally as easy, uses an intuitive menu structure along with guided measurement and calibration methods; little to no operator training is required.

Rugged probe versions, available in all parameters except sodium and BOD, make measuring in tough environments easier. These models feature longer cable lengths (options up to 30 meters), offering durability and signal integrity when spanning long distances such as rivers, bridges and lakes.

The IntelliCAL probe portfolio addresses specific operator needs across six key parameters:


pH

Standard, rugged and NEW pH ultra model available which gives the fastest response compared to competitor probes. Provides rapid measurement for all sample types, even difficult samples such as low-ionic strength (pure) water.


NEW-ORP (Oxidation Reduction Potential)

The rugged ORP probe features a flat disk design for optimal performance and easy sensor cleaning. Offered in standard, rugged and refillable models.


NEW-Sodium Ion Selective Electrode (ISE)

Uses an exclusive ISE design that ensures a fast start up time and minimal conditioning requirements to prevent calibration re-work.


Conductivity

Four-pole graphite design enables IntelliCAL probes to measure conductivity (µS/cm or mS/cm), resistivity, salinity, TDS and temperature. Choose either standard or rugged models.


DO

Uses patented Hach LDO(r) (Luminescent Dissolved Oxygen) technology. Contains no membranes to eliminate the numerous reliability and maintenance concerns inherent in older DO membrane instruments. Standard and rugged models available.


LBOD

Breakthrough probe uses LDO technology for BOD measurement. Contains no membranes and gives quick, reliable results for BOD measurements.

For more information regarding HQd meters and IntelliCAL probes, call (800) 227-4224 or visit http://www.hach.com/hqdguide.

About Hach Company

For over 60 years, Hach Company (www.hach.com) has been developing innovative solutions used to test the quality of water, other aqueous solutions and air. Manufactured and distributed worldwide, Hach systems are designed to simplify analysis by offering sophisticated on-line instrumentation, accurate portable laboratory equipment, high-quality prepared reagents, complete easy-to-follow methods, and life-time technical support. Hach is a wholly owned subsidiary of Danaher Corporation (www.danaher.com), a Fortune 500 leader.


More from Agricultural & Farming Products