Interchangeable Motorboat Propeller Blades Made from Complet MT Long Glass Fiber Reinforced Composite Propels Piranha's Success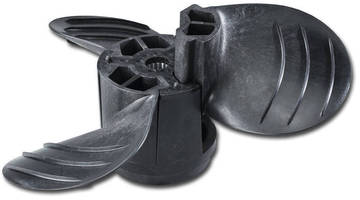 WINONA, MINN., USA – With repair costs from motorboat propellers striking submersed objects running up to several thousand dollars for complete lower unit rebuilds, Brad Stahl knew there had to be a better solution. His intuition led him to start Piranha Propellers of Jackson, Calif., which manufactures and sells replacement propellers featuring interchangeable blades made from long fiber composites as an alternative to traditional metal propellers.



For his latest iteration, a propeller for houseboats and service barges that offers improved reverse thrust capabilities he again turned to longtime partner and compounder PlastiComp of Winona, Minn., for a long glass fiber reinforced thermoplastic composite that was up to the performance challenge.



Interchangeable Design

Piranha's unique composite propeller design consists of a center hub with three or four slots for inserting interchangeable blades of varying size and pitch.



Easily changing a damaged or broken blade instead of the entire prop lowers ownership cost; interchangeability also allows tuning of propulsion thrust to meet a boats intended use, for either speed or transporting loads.



When a metal propeller blade strikes a submersed obstacle, it can permanently bend or break, with severe impact forces often causing additional costly damage to the motors lower unit.



With a Piranha composite propeller, the blades flex and absorb the energy from minor impacts. At higher impacts, the blades, which have lower shear strength than metal, sacrifice themselves by breaking and releasing energy before transferring damaging forces to the motors lower unit.



Lower unit repairs can cost up to several thousand dollars, making a $25 composite replacement blade a considerable cost saver, according to Stahl.



Hydrothrust Propeller

Piranha's latest propeller iteration for houseboat and service barges improves reverse thrust. "When the wind kicks up a houseboat can quickly become difficult to maneuver," said Stahl. "We do a lot of sales to the rental market, and it doesn't take much for inexperienced people to have difficulty because reverse thrust performance is significantly lower. Propellers are designed to push, not pull."



The innovative blade design of Piranha's Hydrothrust propeller provides 400% more reverse thrust than standard propellers and twice as much as competing metal props," said Stahl. "In testing, our Hydrothrust propeller produced 650 pounds of thrust in reverse with virtually no change in forward performance."



"Whether backing a houseboat off a beach or maneuvering around docks, especially when there is wind in the picture, Hydrothrust provides a real boost in safety by increasing controllability," he said.



Other enhancements Piranha is able to offer include Hydrobites, small flow fences on propeller blades that control water flow and reduce turbulence vibration. "Injection molding with long fiber composites makes it easy to add feature details like our Hydrobites that would be difficult and expensive to produce in metal," said Stahl.



Long Fiber Composites

Initially, the concept of simply sliding a new blade in to replace a damaged one was well received, according to Stahl, but using composites instead of metal met with some resistance. "'There is no way a piece of plastic can push my boat through the water' was common feedback," said Stahl.



With long fiber composites being an integral element to making his interchangeable blade design practical and cost effective, Stahl pressed on. "The first 5-to-10 years it was an up-hill battle to prove a composite prop was as good as aluminum or stainless steel," he said.



Stahl's first propeller designs used a 60% long glass fiber reinforced nylon 6 composite and testing on higher horsepower motors was successful. "When I dropped back to lower horsepower two-stroke motors, we started seeing failures," he said. "It came down to higher harmonics and vibration in the two-stroke motors."



The solution was adding a toughening agent to the long fiber composite that better dampened vibration energy, according to Stahl.



"You really have to understand the flexural modulus properties of long fiber composites when designing a propeller," said Stahl. "When I started 25-years ago there wasn't computer generated flow analysis for fiber reinforced composites. Our designs have to be slightly distorted when molded so that in use, when the blade is experiencing propulsion forces, it has the proper shape to maximize thrust."



Maximum Toughness

Piranha uses a Complçt® MT series long glass fiber reinforced nylon 6 composite from PlastiComp for all its propellers. PlastiComp formulated its Complçt MT composites for maximum toughness to provide up to 40% more impact resistance than standard long fiber reinforced materials. The extra durability provided by Complçt MT long fiber composites makes them ideal for demanding applications like Piranha's propellers.



"I originally started working with PlastiComp because I was looking for a second material source - they quickly became my primary source," said Stahl. "Other long fiber materials I tried looked bad when molded. Complçt MT easily provided the surface finish I wanted for our propellers."



"I really enjoy the relationship we have with PlastiComp," he said. "Every time I have a question PlastiComp is right on the ball."



Piranha Propellers is the leader in composite marine propellers serving the recreational boating market with propellers for all major brands of outboard and inboard motors from nine to 260-horsepower. For more information on their composite motorboat propellers, visit their website at www.piranha.com.



For more information on PlastiComp's long fiber reinforced thermoplastic products and technologies, please call +1 507-858-0330, e-mail info@plasticomp.com, or visit their website at www.plasticomp.com.



About PlastiComp

PlastiComp, Inc. focuses on developing and providing long fiber reinforced thermoplastic composite technologies to partners worldwide. These include ready-to-process long fiber thermoplastic (LFT) pelletized composites along with process development and manufacturing equipment licensing for LFT pultrusion, in-line direct long fiber thermoplastic (D-LFT) Pushtrusion®, and in-line direct glass mat thermoplastic (D-GMT®) technologies. PlastiComp's injection moldable Complçt® LFT composites are available as standard and custom engineered formulations that combine long glass, carbon, and other specialty fiber reinforcement with thermoplastic polymers from polypropylene to PEEK.

More from Mechanical Power Transmission