Intepro Systems to Debut New Load Family at AutoTestCon 2011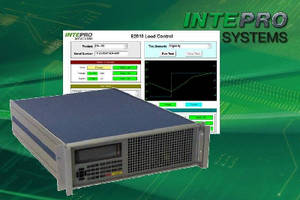 Santa Ana, CA - Intepro Systems, LLC announces that it will be debuting a new load family at AutoTestCon 2011 in Baltimore, MD on September 12th to the 15th. Intepro Systems will have the units on display in booth 757.

The Company previews that their new E2010 Electronic Load Family will be stand alone instruments, a departure from their traditional systems components. The loads to be announced at the show come in various models; 19" 3U high, 2.5KW DC load, 19" 6U high, 5KW DC load and a 19" 3U high 300W module in which 10 can be fitted into a chassis. All of the loads will have CC, CR, CV, CP and Short Circuit modes. The loads are also capable of Capacitive (RC) and Inductive (RL) simulation.

"We like to take the opportunity to meet existing and new customers at AutoTestCon. It is a great conference to introduce our new products," said Joe Engler, President. "We look forward to meeting everyone there."

Intepro is constantly reviewing the market and developing new ideas to help their customers test all their Power Systems and components. Customers and editors are requested to contact Stu Gibson or Derek Somers for an appointment to see these new loads. Load Press Releases will be available prior to the show by request only.

About Intepro Systems, LLC

Intepro Systems manufactures, develops and services complex instrumentation and systems for the test and design validation of power supply systems and their components used in aerospace, military, telecommunications, and other power electronics applications. The leader in power supply testing for over 25 years, the company has a global reach with direct sales offices in the US, Ireland, United Kingdom., and China.

For more information on Intepro, contact Derek Somers or Stu Gibson at 1.714.953.2686 or Stu.Gibson@inteproate.com or Derek.Somers@inteproate.com. Intepro's headquarters is at 1530 Lyons Street, Santa Ana, CA 92705; 714.656.3551, 714.953.3150 (fax), www.InteproATE.com.

Related