Intelligrated Expands Sortation Portfolio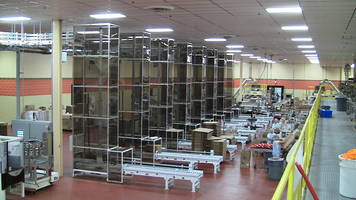 New products offer custom solutions for precise control and efficient product flow in reduced footprint
CHICAGO: Nov. 09, 2016)-Today's automated operations require flexibility and simplicity to accommodate multiple product and packaging types, fit shrinking layout requirements and scale with growing demand. Intelligrated® (www.intelligrated.com), a leading North American-based automated material handling solutions provider, announces the expansion of its sortation portfolio with solutions designed for these challenges. USS vertical conveyor and sortation, tote stacking and destacking, buffering and sweeper sorter systems offer simple solutions engineered to fit operational requirements with industry-leading reliability.
Configured as modular components, each solution offers easy implementation in tight conditions and seamlessly integrates with auxiliary systems to make the most of available vertical space and reduce footprint. Precise control and location tracking helps keep product flowing through a variety of stacking, destacking, sortation induction and discharge, elevation change and product diverting applications.
Vertical conveyor and sortation: Smooth, efficient vertical transportation of product in a range of configurations to reduce footprint and meet operational requirements
Tote stacking and destacking: Automated handling of empty or full totes for staging, storage, retrieval or resequencing of conveyed product to reduce labor costs and increase throughput rates
Buffering systems: Efficient staging and sequencing of product for manufacturing and distribution facilities to optimize availability and efficiently use available space
Sweeper sorter: Fast, quiet, reliable sortation of small- to medium-sized items that are otherwise difficult to handle
"Today's supply chain operations are stretched to reach greater levels of efficiency and productivity, all while being challenged to operate in a shrinking footprint and handle new packaging and products," said Howard Eisenberg, senior vice president and general manager, USS, an Intelligrated company. "The USS sortation products offer simple, flexible solutions for effective sortation that meets operational needs, in the most efficient footprint possible."
The custom USS engineering approach allows operations to modify or upgrade existing technologies, or implement a new, innovative approach tailored to unique requirements. Backed by Intelligrated's industry-leading 24X7 support with complete integration services and industry-leading engineering, solutions deliver a lifetime of reliable service. For more information, visit www.intelligrated.com/uss.
To see a live demo of the vertical reciprocating conveyor, visit Intelligrated at PACK EXPO International booth S-3666.
For sales and marketing information, contact Tracy Niehaus, marketing manager, Intelligrated, by phone at 513.881.5239 or by email at tracy.niehaus@intelligrated.com.
For media information, contact Dan Gauss, public relations, Koroberi, at 919.797.2916 or by email at dan@koroberi.com.
About Intelligrated
Intelligrated, now part of Honeywell, is a leading North American-based, single-source provider of intelligent automated material handling solutions that drive fulfillment productivity for retailers, manufacturers and logistics providers around the world. Through a broad portfolio of automation equipment, software, service and support, Intelligrated solutions give businesses a competitive edge and optimize operational performance through increased flexibility, efficiency and accuracy.
Intelligrated designs, manufactures, integrates and installs complete material handling automation solutions including conveyor, IntelliSort sortation, Alvey palletizers and robotics, and automated storage and retrieval systems - all managed by advanced machine controls and software. Intelligrated Software offers warehouse execution systems, a scalable suite of software that manages the entire fulfillment process, including equipment, labor and business intelligence, integrated with voice- and light-directed picking and putting technologies.
From concept to integration to lifecycle support services, Intelligrated delivers dependable, sustained distribution and fulfillment success, and maximum return on investment. Intelligrated backs every project with 24X7 multilingual technical support and access to lifecycle service through a network of national, regional and local service centers.
Dan Gauss
Public Relations
Koroberi, Inc.
T: 919.797.2916
More from Services