Intelligent Torque Tools communicate with controller.
Press Release Summary: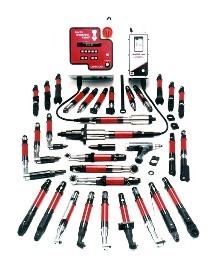 Series 66 includes right-angle flanged head, right-angle sliding spindle, offset, tubenut, crowfoot, and pistol-grip nutrunners. Standard right-angle configurations are available in 25 to 200 Nm range, while sliding spindle tools come in 40 to 160 Nm. All contain internal microprocessor inside tool handle. Setup and calibration is automatic upon connection of tool to company's CS4000 or CS5000 controller via serial communication link.
---
Original Press Release:

SPX GSE Tech-Motive Tool Expands 66 Series Tool Line


Novi, MI - SPX GSE tech-motive tool has expanded its line of intelligent medium-torque fastening tools. In addition to right angle and in-line nutrunners, models in the GSE tech-motive tool 66 Series now include right angle flanged head, right angle sliding spindle, offset, tubenut, crowfoot, and pistol grip nutrunners.

The standard right angle configurations are available in the 25 Nm to 200 Nm range. The sliding spindle tools come in 40 Nm to 160 Nm with 4- and 5-in sliding spindles with 1-in retraction and 7-, 9- and 11-in sliding spindles with 2-in retraction. Depending on the model, the sliding spindle tools may have a 3/8-, 1/2-, 5/8- or 3/4-in square drive. Third-party heads, such as tubenut and crowfoot heads, may be used with the 66 Series flanged head models, available in 40 Nm to 90 Nm. All of the right angle tools may be ordered for handheld or fixtured usage.

Handheld and fixtured in-line and offset tools are available in 20 Nm to 150 Nm. The handheld pistol grip models come in 20 Nm to 45 Nm; and the handheld tubenut and crowfoot models in 18 Nm to 55 Nm. All GSE tech-motive tool 66 Series nutrunners have a lightweight aluminum handle, low mass motor that enables the tool to stop quickly when achieving rundown torque and small diameter rotors for improved torque control. All have a programmable multi-purpose pushbutton that can be used for Cycle Complete to send data, multiple parameter selection, and other functions. A forward/reverse button for direction control is also included.

For handheld models, torque information is right at the user's fingertips. The tool handle has a four-character alphanumeric digital display that shows torque readings, torque and tool status information, and scrolling messages that can have as many as 16 characters. The display can be positioned four ways to accommodate vertical and left-hand use of the tool.

Three indicator/status lights provide the operator feedback on rundown status and system errors:
- Yellow indicates low torque or low angle:
- Red indicates high torque or high angle;
- Green indicates that the torque or angle is within the programmed limits.

The LEDs can be programmed to a variety of logical outputs. For example, the yellow LED can be programmed to indicate In-Cycle, the standard for yellow indicators in Europe.

All GSE tech-motive tool intelligent series nutrunners contain an internal microprocessor - the Intelligent Tool Interface (ITI) module -- inside the tool handle. The ITI module makes setup and calibration automatic upon connection of the tool to a GSE tech-motive tool CS4000 or CS5000 Controller. Data stored by the ITI module includes the tool model number, build date, serial number, minimum and maximum torque capacities, minimum and maximum speed capacities, calibration torque, calibration counts, angle counts per revolution, and last dates of calibration and repair. The ITI board also indicates whether the tool is fixtured and stores data regarding opposite rotation, left-hand tightening, auto retract, retract shutoff torque, retract speed, cycle, locked rotor, and over-temperature counts (to aid in diagnostic and preventive maintenance scheduling).

Serial communication between the tool and controller is high speed and noise immune.

Digital communication enables the use of long cables between the controller and the tools, as needed.

In addition to the 66 Series nutrunners, SPX GSE tech-motive tool also offers low-torque 46 Series nutrunners, with torque capacity of 5 to 15 Nm.

SPX GSE tech-motive tool, formerly known as Advanced Assembly Group (AAG), is a manufacturer of DC electric fastening tools, controllers, multi-spindle fastening systems, strain gage-based transducers and data collection instruments. Products are marketed under the GSE tech-motive tool brand name.

SPX GSE tech-motive tool shares its headquarters with sister division SPX GSE Scale Systems in Novi, Michigan, USA. Parent company SPX Corporation is a global provider of technical products and systems, industrial products and services, flow technology and service solutions. The Internet address for SPX Corporation's home page is www.spx.com.

MEDIA CONTACT: LINDA J. ASHLEY SPX GSE tech-motive tool 42860 Nine Mile Road, Novi, MI 48375-4122 Tel: 248-596-0600 FAX: 248-596-0601 www.gsetechmotive.com