Intelligent Lab Exhaust System Delivers Lowest Total Cost of Ownership in the Industry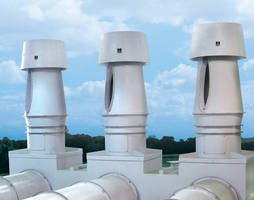 The patent pending Strobic Air® Smart Fan(TM) delivers unprecedented levels of efficiency and control to maintain safe ventilation levels while minimizing facility energy costs and carbon footprint. Its low capital cost and quick return on investment result in the lowest total cost of ownership in the industry. The Smart Fan(TM) senses pressure changes as system demand changes and continually adjusts fan speed to produce optimal flow. In multi-fan applications, fans are cycled on and off as required. Additionally, the Smart Fan(TM) can sense a fan failure and turn on a standby fan to maintain safe exhaust operations.

The Smart Fan(TM) is the latest improvement to the highly successful TriStack® mixed flow exhaust fan line for "safety critical" applications such as laboratory fume hood exhaust and ventilation for specialized care environments. Other advantages of Tri-Stack® systems include low profile design, low noise levels and vibration free operation. Tri-Stack® systems are also virtually maintenance-free, offering significant cost savings with regard to maintenance labor, while eliminating the need for rooftop penthouses and expensive vibration prevention hardware. Direct drive motors provide extended lifetimes by eliminating the need to replace belts, pulleys, or other limited life components.

Tri-Stack® systems are the superior choice wherever issues of exhaust pollution, odor control, re-entrainment, noise reduction, aesthetics and energy savings are important.

For further information, call or write
Rich Maialetti,
Sales Manager at:
Strobic Air Corp.,
a Met-Pro Product Recovery/Pollution Control Technologies Company,
160 Cassell Road,
PO Box 144,
Harleysville, PA 19438;
Tel: (215) 723-4700;
FAX:(215) 723-7401;
Email: [email protected].