Intelligent Fire Detector System provides background music.
Press Release Summary: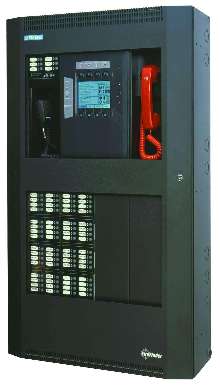 FireFinder incorporates audio system with 8-channel digital voice amplifiers that operate in 200 Hz to 12 KHz range. System is used for voice/evacuation emergency notifications and can also provide building-wide communication with surround-sound music and paging. Its 6 in. interface screen simultaneously displays up to 5 events using HAZMAT icons for safety and highlighting critical information. Interface also displays locator maps.
---
Original Press Release:

Siemens Adds Voice/Evac, Music and Building Communications to Its Firefinder Intelligent Detector System


Florham Park, N.J., Jan. 7, 2003- Siemens Building Technologies Inc., Fire Safety Division has integrated a range of audio capabilities into its recently introduced FireFinder intelligent fire detector system. This audio capability provides customers with music, paging and the largest interface screen in the industry.

Now available is a high quality integrated audio system with a wide frequency range. Its 8-channel digital voice amplifiers operate in the 200 Hz to 12 KHz ranges, which permits the frequency response necessary to listen and enjoy background music.

In addition to its primary use for voice/evacuation in case of emergency, the audio system may be used to provide building-wide communication with "surround sound" background music and convenience paging. New technologies allow the use of remote microphones for the paging station. Previously, two or three systems were required to provide the functions of one FireFinder system.

NFPA guidelines allow the addition of music and paging functions to voice/evac systems as long as amplifiers and speaker zones are supervised in active mode and any emergency signal overrides any other use. For optimum safety, the Siemens system is supervised in standby as well as active mode, fully meeting all criteria for NFPA approval. Of course local approval by the AHJ (Authority Having Jurisdiction) will still be required.

In addition to its new audio functions, the intelligent FireFinder life safety system offers an impressive amount of fire- and building related information to fire fighters. Its 6" interface screen is the largest in the industry, conveying more of the information the fire community has expressed a need to see. Clear, easy to use and virtually intuitive, the interface screen communicates in hundreds of easy-to-read, large-text characters, displaying up to five events simultaneously using standard hazmat icons for safety, and highlighting critical information for emphasis. It even displays locator maps for faster response by emergency personnel and greater life safety protection for personnel.

Siemens projects that the new generation of FireFinder life safety systems will be an important step toward an industry-standard user interface. Clear, easy to use and virtually intuitive, it will inform and enhance the safety of firefighters.

Siemens Building Technologies, Inc., is the North American affiliate of Zurich-based Siemens Building Technologies (SBT) AG, the leading single-source provider of cost effective facility performance solutions for the comfort, life safety, security, energy efficiency and operation of some of the most technically advanced buildings in the world. In North America, SBT employs 8,500 professionals and provides local service from more than 400 locations coast-to-coast. Worldwide, SBT employs 33,000 and serves customers in more than 125 countries.

For additional information about Siemens, visit www.sbt.siemens.com.

More from Electronic Components & Devices