Intelligent Embedded Computer has rugged, fanless design.
Press Release Summary: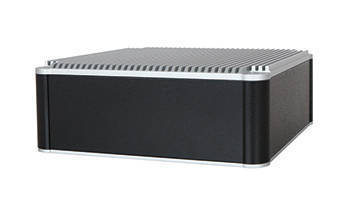 Built on Portwell brick concept design, WEBS-21B0 features NANO-6061 Nano-ITX embedded board and supports Intel® Pentium® and Celeron® N3000 CPUs in quad or dual-core configurations with 4–6 W TDP ratings. 8 GB max DDR3L SO-DIMM supports 1,333/1,600 MT/s. Gen 8 Intel® HD Graphics architecture supports up to 3 displays (4K max resolution), and I/O includes DisplayPort (3,840 x 2,160 max); VGA; smart COM (RS-232/422/485); M.2 type E interface; and 2.5 in. HDD/SSD, mSATA, and SD card.
---
Original Press Release:

Portwell Releases Rugged Fanless Intelligent Embedded System Powered by Intel Pentium/Celeron Quad/Dual-core Processor N3000 Series



FREMONT, CA. – American Portwell Technology, Inc., (http://www.portwell.com) a wholly owned subsidiary of Portwell, Inc., a world-leading innovator in the Industrial PC (IPC) market and an Associate member of the Intel® Internet of Things (IoT) Solutions Alliance, announces the release of the WEBS-21B0, a fan-less intelligent embedded system featuring the Intel® Pentium® and Celeron® processor N3000 product family in quad and dual-core configurations. A rugged, compact design and low power consumption make the WEBS-21B0 the perfect solution for applications in kiosk, digital signage, in-vehicle mobile video surveillance, medical, and the harsh environments of factory automation.



The new rugged WEBS-21B0 is equipped with the Portwell NANO-6061, a Nano-ITX embedded board based on SKUs of the Intel Pentium and Celeron processor N3000 product family that range from 4W-6W thermal display power (TDP). These processors include the low-power-consuming Gen 8 Intel® HD Graphics architecture that supports up to 3 displays with a maximum resolution of 4K and doubles performance compared to the previous generation. The compact WEBS-21B0 embedded system also features DDR3L SO-DIMM up to 8GB supporting 1333/1600 MT/s; one DisplayPort (DP) on the rear I/O with resolution up to 3840 x 2160; one legacy VGA interface support; one smart COM port for RS-232/422/485 selected by BIOS; and multiple storage with 2.5" HDD/SSD, mSATA, and SD card. In addition, the WEBS-21B0 is designed especially for IoT applications. The compact 150mm x 150mm x 53mm box integrates the latest M.2 type E interface, which targets wireless connectivity like Wi-Fi, Bluetooth and near field communication (NFC) functionalities. It can serve as an ideal solution for an IoT gateway.



Thanks to the Intel Celeron and Intel Pentium processor N3000 product family's superior capability supporting up to quad-core processing power, Portwell's NANO-6061 delivers greater performance than its predecessors, while on a compact 120mm x 120mm footprint.



The WEBS-2000 embedded system series is built upon a "brick" concept design created by Portwell to simplify system customization. It implements an intelligent structure by building the system chassis using three simple elements: wall, pillar and cover. This innovative design of the WEBS system series enables flexible and easy customization. Specifically, this flexible structure makes it easy to adjust chassis size to meet different board form factors for different applications. The Portwell WEBS-21B0 further benefits from the brick concept chassis with top cover/heat sink mechanism that facilitates efficient heat dissipation. The rugged and compact WEBS-21B0 supports a temperature range from 0ºC to 50ºC for harsh environment operations, while at the same time, its fanless design ensures silent operation, reliability and low maintenance rate and costs. 



With its superior, up to quad-core processing power, high capability and excellent 3D graphics via the Gen 8 Intel HD Graphics, Portwell's WEBS-21B0 is indeed an ideal solution for high computing power and/or high 3D video/image applications.



Product details: http://www.portwell.com/products/detail.php?CUSTCHAR1=WEBS-21B0.



Product availability: In addition to American Portwell Technology, Inc., the Portwell WEBS-21B0 fanless intelligent embedded system is also available through Arrow Electronics, Inc. and Avnet, Inc.



About American Portwell Technology

American Portwell Technology, Inc., is a world-leading innovator in the embedded computing market and an Associate member of the Intel® Internet of Things Solutions Alliance. American Portwell Technology designs, manufactures and markets a complete range of PICMG computer boards, embedded computer boards and systems, rackmount systems and network communication appliances for both OEMs and ODMs. American Portwell is an ISO 9001, ISO 13485, ISO 14001 and TL 9000 certified company. The company is located in Fremont, California. For more information about American Portwell's extensive turnkey solutions and private-label branding service, call 1-877-APT-8899, email info@portwell.com or visit us at http://www.portwell.com.



Intel, Celeron and Pentium are registered trademarks of Intel Corporation in the United States and other countries. All other products and company names referred to herein may be trademarks or registered trademarks of their respective companies or mark holders.



Media Contact:

Susan Wei

Marketing Executive

American Portwell Technology, Inc.

510-403-3354

susanw@portwell.com



Product Contact:

Jason Chen

Product Manager

American Portwell Technology, Inc.

510-403-3362

jasonc@portwell.com

Related